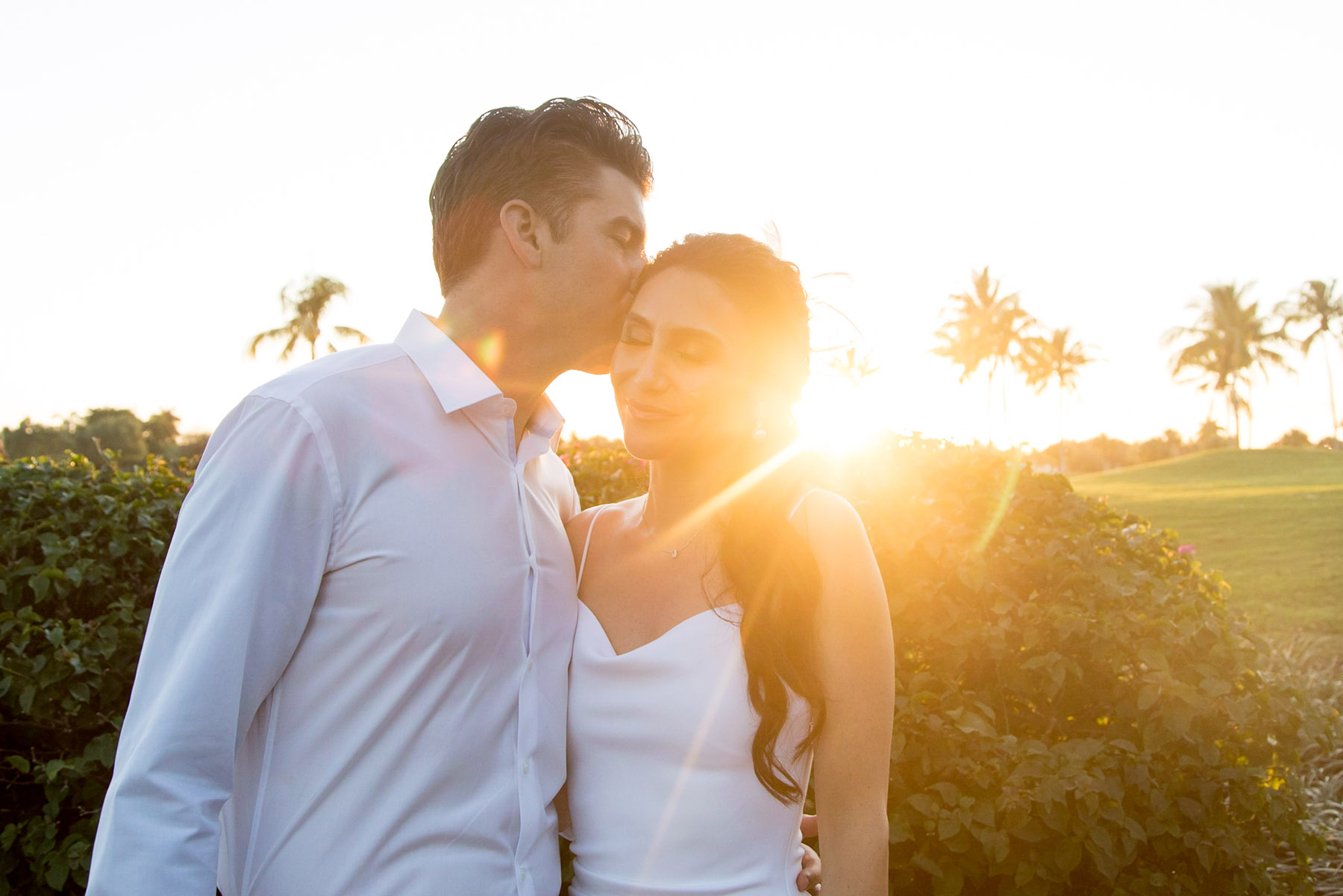 24 Mar

Wedding During COVID-19 | Melissa and Roger

As the world faces a global pandemic, uncertain times, and social distancing, brides around the globe are having to sadly put their dream wedding on hold. It is during times like this that we are reminded what is important in life, and the most important of all is all is faith, hope, and LOVE. We are hearing stories from around the world of couples having their very own small wedding during COVID-19 to prove that love can actually endure all things. 

Our very own Melissa and Roger made the bittersweet decision to move forward with tying the knot during a safe and intimate ceremony at their family home in Boca Raton, Florida, and the result was absolutely magical. We are so honored to have been able to capture this once-in-a lifetime story, and when the world calms down, we will be just as honored to capture their big, fabulous wedding at The Breakers later this year. Melissa journaled her whirlwind of emotions leading up to and after her unexpected wedding, and get ready for an emotionally beautiful ride!
Melissa and Roger's Story
"This past week was a whirlwind.  Planning a wedding is stressful enough, but throw in a world wide pandemic and my head wanted to explode. With COVID-19 spreading rapidly like wild fire, we were forced last weekend to look into the possibility of postponing our magical wedding. Still hopeful that we could get through the week and see all the months of planning come to light, a black cloud was vastly approaching.  Our guest list started to diminish as we had friends and family call with regrets that they couldn't travel during this uncertain and unsafe time.  Ultimately, we had a huge decision to make.  
Fortunately, with the help of The Breakers, we were given a new date as an option to postpone. We quickly contacted our vendors and guests to see who was available in May for our new supposed date. Much to our surprise, ALL of our vendors were available and willing to accommodate. Admittedly, I was devastated but it didn't seem real yet.  We knew this was the best decision and we couldn't jeopardize the health and wellness of our family and friends.  By Monday afternoon, we had made the tough decision to go forward with the postponement.  I was crushed, mentally and physically.  It seemed like COVID-19 robbed us from OUR day and our special celebration. However, I strangely felt relief after we had made the decision.  We were both exhausted and drained.  By Tuesday, morning Palm Beach County had enacted a curfew and The Breakers announced they were closing their doors through April 8th. Again, we felt relieved that we made the choice to postpone but still saddened by the reality we would have to wait longer for our big celebration.
Amidst the chaos, Roger and I still made the decision to move forward with our ceremony and get married this past Saturday.  We weren't going to let COVID-19 get in the way of our commitment and love for one another.  After all, marriage IS about two people who pledge their respect, loyalty, and love to one another despite life's circumstances  We didn't plan for COVID-19 to ravage through our lives but we did plan to go through life's most difficult moments supporting each other regardless.  Fortunately, the Cantor was available and we planned to get married on my parents' golf course.  With encouragement from Sara and my dear friends that work at SKP,  one of our associate photographers, Lisa, was open to capturing our intimate ceremony.  Surprisingly, the idea of still capturing our special nuptials made me THAT much more excited.  There was so much negativity surrounding our day but getting to capture these memories during this unprecedented time put things into perspective. This was about US, our future, and our love.  And we knew we would have a story to tell our future as we grow old together.
Fast forward to Saturday, my bridesmaids FaceTimed me as I was getting ready for the evening.  It was so special and made me feel like we were really getting ready together as originally planned.  Shortly after, Roger, myself, and our beloved dog, Rita, drove over to my parent's golf course. Upon arrival we met with our Cantor and my parents as well our photographer and friend, Lisa. My mom hurried me up the stairs to the club house and from my view I could see she surprised Roger and I with a Chuppah arranged with beautiful orchids and a bouquet of white flowers. (I am not quite sure how she pulled that off considering everything in the county shutdown but I didn't ask any questions :)).  It was perfect.  I instantly became emotional.  The entire week of stress and build up washed away immediately.  I stood there completely in awe of the love that surrounded Roger and me.  As I made my way down the steps to meet my soon-to-be husband I couldn't help but think how grateful I was at that very moment.  Here I am, healthy and happy, and still getting to marry the man of my dreams.  There was nothing else that mattered in the world at that very moment. Through happy tears, I could barely repeat what the Cantor had said but soon after it was official. I was officially a Mrs. and it will forever be the best day of my life.
After the ceremony, Roger and I had some fun taking candid shots with Lisa including my parents and Rita.  We were able to celebrate with a little bubbly and eat some cake too! Once more, it was perfect – all of it.
If someone were to ask if I would do it all over again, I would.  I would absolutely go through it ALL again – even amidst the pandemonium. And that is the biggest life lesson I learned from this whole mess.  Marriage isn't about the venue, the flowers, or even the guests. Marriage isn't about Roger or me. It is about US, working together, as a team, and figuring out how we can get through whatever life throws at us. It is about two people in love, who are committed to each other's happiness and when the world collapses, who do you want to stand side by side, literally in sickness or in health."
Vendor Partners:
Makeup: Milo Rojas
Hair: Eley González Ayala
Florals: Kimberly's Flowers
Important note: Our local laws did not prohibit us from being able to safely capture this moment, but please make sure to listen your local rules and laws if you are planning your own COVID-19 wedding! And make sure to tell us about it below!