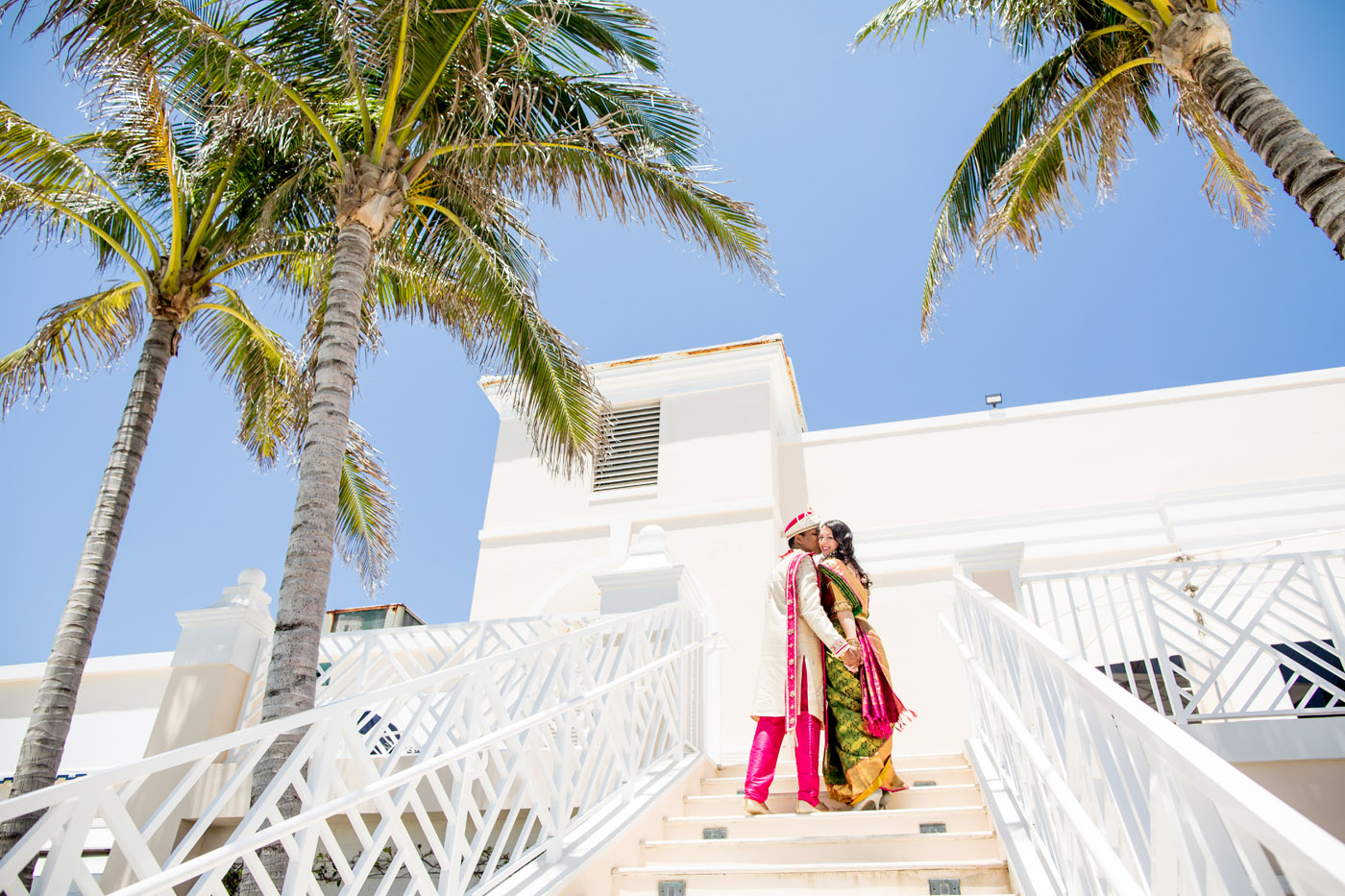 05 Jul

Palm Beach Indian Wedding | Laura and Tej
Laura and Tej's Palm Beach Indian Wedding & American Wedding
When I first met Laura and Tej at their engagement session on the Brookly Bridge, Laura was wearing a bright red evening gown and Tej a tuxedo. I knew right away these were going to be our SKP type of fabulous, fun people! I could not wait for their Palm Beach Indian wedding and Secular wedding ceremony, and the day was even more incredible and full of love than we could have ever imagined. 
Laura and Tej's Palm Beach Indian wedding and Secular ceremonies were held at a beautiful, private Palm Beach club. The girls got ready at Laura's childhood home, and the men at a hotel nearby. The first part of the day honored Tej's family heritage and traditions during their Hindu ceremony. Laura and her girls perfected their colorful Saris, while Tej arrived at the wedding venue for the traditional Baraat. If you are not familiar with this tradition, this is when the groom arrives in an amazingly fun, grand procession. He dances with his groomsmen, friends and family, and formally greets the bride's parents. 
Laura and Tej's Hindu ceremony was a beautiful celebration of tradition, from the moment Laura was escorted down the aisle by her brothers, to the ornate necklace Tej placed around Laura's neck officially symbolizing their marriage. The newlyweds were cheered down the aisle as rose petals fell all around them! After the ceremony, guests enjoyed cocktails and a lunch of traditional Indian foods, before taking a break and changing for the second part of the day.
Laura changed into an elegant Peter Langner dress and sparkling Badgley Mischka shoes for their Secular sunset ceremony. She wore an heirloom pearl necklace, which she borrowed from her mother who wore it on her wedding day, who was given the necklace by Laura's grandmother who also wore it on her own wedding day. Laura said she cannot wait one day to pass is on to her own daughter to carry on their family tradition. While surrounded by her closest girlfriends and family during a champagne toast, Laura got teary eyed and took a moment to say, "I just never thought life could get this good." Needless to say, we were all quickly in tears along with her! Tej was striking in his white tuxedo jacket for their second ceremony. The couple shared a "First Look" outside of Laura's childhood home, with sparkling sunlight behind them and their bridal party looking on. 
Their American, secular ceremony was at the same venue, but this time outdoors set between the club pool and the ocean. Laura and Tej exchanged some of the most heartfelt and eloquent vows we have ever heard. There were lots of tears, just as many laughs, and so much love. After Laura and Tej's sunset ceremony, guests enjoyed cocktails by the pool before heading into the upstairs ballroom for the reception. We pulled the couple away onto the beach for some oceanside sunset photos. Laura and Tej's love was so overflowing through the lens, and they even had their dips and twirls they wanted to capture (check out their JUMP photo)! 
Laura and Tej's wedding reception was filled with colorful flowers, tall centerpieces, and sparkling crystal accents. The couple's first dance was just as elegant and emotional as the rest of their day, followed by heartfelt toasts and a night of fun dancing. Laura and Tej were enjoying their evening so much, they even stopped for one extra dance on their way to cut the cake! 
As wedding photographers, we are honored to be in the presence of such love and happiness, and witness so many different traditions. The love and connection between Laura and Tej is abundant and infectious! Thank you so much for choosing us to be part of your exquisite Palm Beach Indian wedding and Secular wedding ceremonies. It is one our team will never forget!
Vendor Partners:
Venue: Private Palm Beach Club
Sheila Mottley
Florals & Lighting: Tom Matthieu 
Catering: Private Club & Taste of India
Hair & Makeup: Jennifer Cruz Beauty Group
Cake: Sugar Monkey
Officiant: The Honorable Elizabeth Maass
Music / DJ: Remix from Tropics Entertainment
Bride's Attire: Peter Langner
Bride's Shoes: Badgley Mischka 
Groom's Attire: Jos. A. Bank
Invitations: Minted