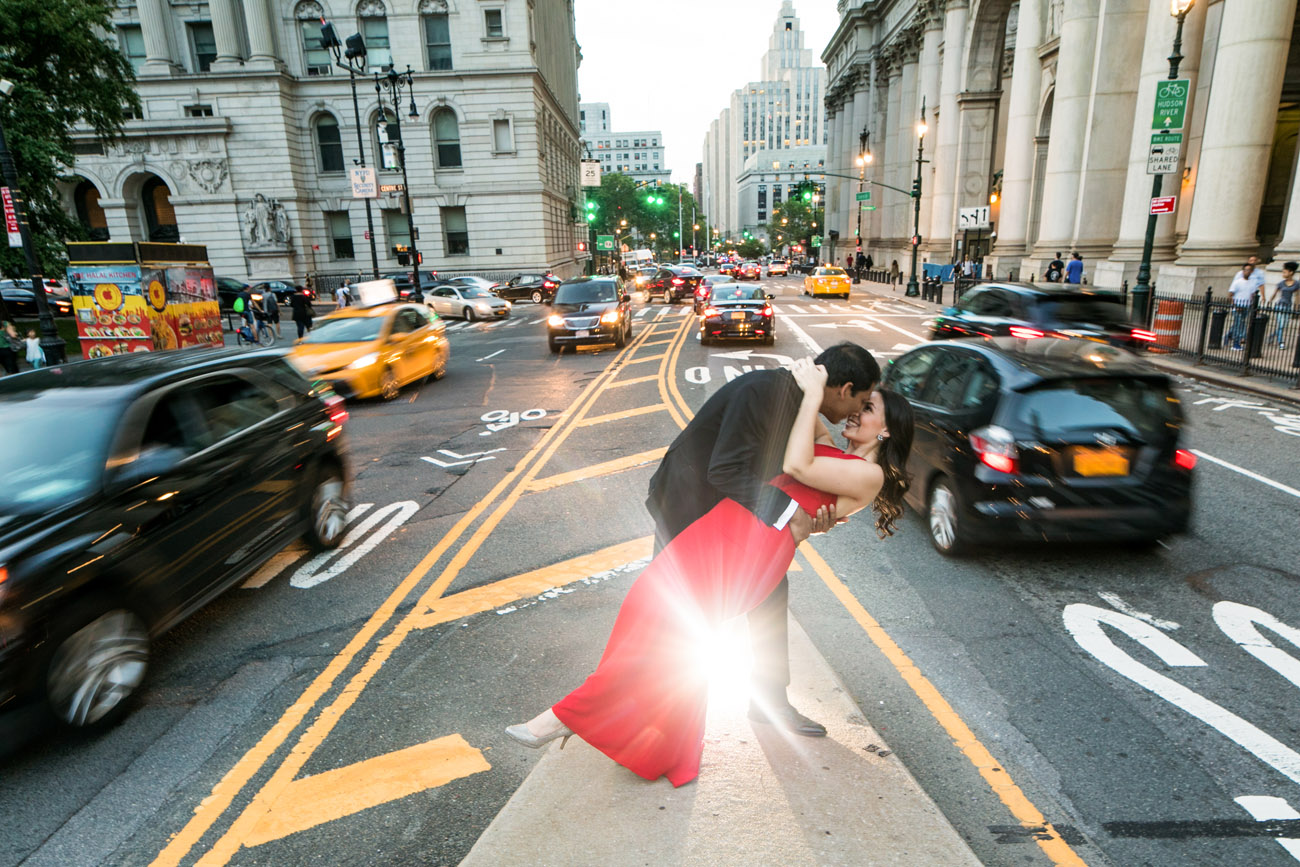 16 Aug

NYC Engagement | Laura and Tej
NYC Engagement | Laura and Tej
On the way to this Laura and Tej's NYC Engagement photo shoot, the bride called me and said, "I'm in a bright red evening gown and he's in a tux. You can't miss us!" I knew right away that this engagement shoot was going to be pure magic!
Laura and Tej met in Grenada where they were both in medical school and lived next to each other for 6 months before they ever met! They both knew that they wanted to marry each other after only 3 dates. They often talked about a future together and after being together for less than a year Tej turned to Laura and simply said, "I want to spend the rest of my life with you, do you want to do that?" Laura replied with, "Of course!"
The "Official" Proposal:
Tej was so nervous and that he actually left Laura in line at a trendy dessert place to run back to our apartments rooftop to finish coordinating a set up with some of their friends. Laura arrived back at their building confused and quite suspicious! She finally found Tej on the rooftop kneeling in the center of a heart of rose petals with their song playing. He asked Laura to marry him and she said yes as fast as she could!
The Engagement Session (From Laura):
"I loved the idea of looking really fancy against the industrial background of the bridge and it's kind of iconic for Brooklyn. But, more than that, it was that Tej and I are med students. e work in the hospital often wearing scrubs and working long hours and our weekends are usually more about studying than lavish date nights. So I loved the idea of spending a night feeling like fancy grown ups in our own little fairy tale. The whole experience was the first time I felt like a bride!  It was really amazing, and now having the pictures I would recommend to anyone to do something a little extra special for these pictures."
We are SO excited to be part of your journey, from amazing glamour NYC engagement to your upcoming wedding here in Florida! We can't wait to see you again, Laura and Tej!
––––
Liked this blog? Check out this Palm Beach sunrise engagement session!