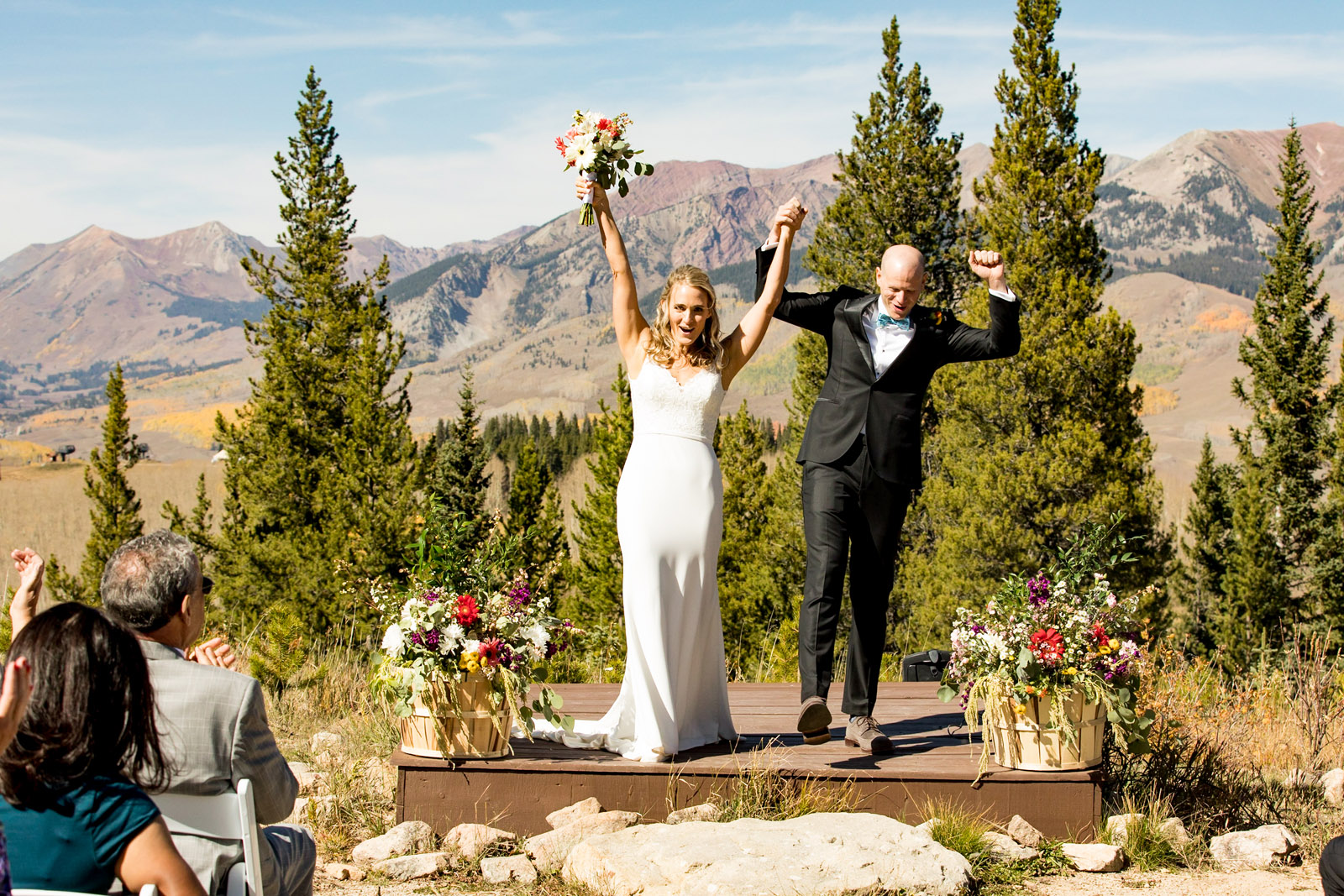 12 Dec

Crested Butte Wedding | Hillary and Dave
Hillary and Dave's Crested Butte Wedding | Colorado Mountain Top Wedding
You never know who you're going to meet, right?!
About two years ago I was photographing a wedding in Colorado and on the Southwest plane ride home sits next to me Dave. Dave went on and on about his recent adventure in Crested Butte with his girlfriend Hillary. We talked about our shared love of music, adventure, photography and he told me all about his life with his girlfriend as a travel partner and Florida dweller.
We chatted for hours on the plane and I told him that one day when he marries this amazing girl I am going to photograph their Crested Butte wedding in Colorado! Thanks to Instagram, we stayed connected and when Dave proposed to Hillary on the top of Mount Crested Butte I messaged wishing my congratulations and semi joked about when I was coming to photograph their wedding.
I love connections. Fast forward to how excited I was to be with Hillary and Dave during their Crested Butte wedding week with the sweetest friends and family from around the country!  Hillary's family and friends were from Wisconsin, California and New Mexico. Dave's family is spread out as well,  from Philadelphia, Seattle and Nashville! I met so many fun new friends.
I arrived to meet everyone on Wednesday driving up from Colorado Springs after visiting my mom. The drive was incredible. I seem to say that every new place I visit is my favorite, but seriously if you haven't done the 5 hour drive from Denver to Crested Butte, I recommend it highly! The 5 hour drive actually took me seven hours because I kept stopping along the road to introduce myself to horses and cows, as well as take photos of the most epic Colorado fall scenery that looked exactly like the thousand-piece puzzle I used to put together as a kid growing up in Minnesota.
The day I arrived in Crested Butte it was about 5pm and the sunlight was absolutely magical on the mountains. I think I might've taken 1000 photos just that day traveling! I was warmly welcomed by Dave and Hillary's family with a homemade meal by Dave's mom and some pretty fabulous bourbon from Colorado!  I'm telling you that Dave, Hillary and I were meant to be best friends! Fun fact – Hillary LOVES pink and sparkles like us, and Dave loves UNICORNS like us! Hillary was wearing all pink and we spent that evening getting to know each other better and laughing.
On Thursday, a few more of Dave and Hillary's guests arrived so I made myself busy downtown in Crested Butte in the adorable little shops, taking lots of #DogsOfSaraKauss photos and soaking in the most gorgeous mountain side town. That evening we sat around the most picturesque fire pit with Crested Butte in the background and sipped on bourbon (a common theme here) and I got to know my new friends. 
Friday was the day of their Crested Butte wedding rehearsal and we went to the top of the mountain where we were going to be the following day. Through all of this excitement, the amazingly strong, adorable and sweet Hillary is fighting back her exhaustion because of working through life with Lyme Disease. Hillary had shared with me about her struggles with Lyme Disease and mentioned that the weekend might be full of little rest stops for her so she could enjoy her wedding day. I was so impressed with how she never once complained and actually never took a rest. She's so strong and I encourage you to follow her story by following her Instagram!
We took a truck up the mountain and drove to the top of Mount Crested Butte where Hillary and Dave's ceremony would be. I was really filled with emotion on that drive. Filled with gratitude that fate had brought us together and they chose to have me as part of their day. As we got to the top and I saw all the chairs lined up ready for tomorrow guests to be seated I definitely was a little choked up listening to Dave's cousin, who would be their officiant, talk about the stories and delivery of their ceremony he was going to give the next day. I really love when the officiant is connected to the couple.
Hillary and Dave's Crested Butte wedding day started with the most glorious morning. We started as a group at camp for coffee. Quite a few people in the group were adventure seekers just like Hillary and Dave and ran the Emma Coburn's 5K Elk Run in downtown Crested Butte. The girls in the group stayed behind for coffee and to prep for Hillary and Dave's wedding day but we did stop by the start – finish line and had an opportunity to chat with Emma Coburn before her race and that was really fun!  
After coffee and 5K shenanigans, Hillary went to have her hair and make up done at the Elevation Salon and Spa. Pat, Dave's adorable mother, was crafting all of the wedding day flowers throughout the week and they turned out incredible! I did offer to help cut flowers but I'm sorry, Pat, I got sidetracked and never actually created any bouquets! Pat did a beautiful job and made the most gorgeous arrangement of wildflowers, daisies, and roses along with the cutest boutonnieres and flower girl flower crown that you ever saw! Hillary's details were so well thought out and perfect for her Colorado mountain top wedding, even down to her perfect Kate Spade shoes! She and her parents rode the ski lift to the top of the mountain where they joined Dave and their guests for a beautiful, emotional mountain top ceremony overlooking Crested Butte. After Hillary walked down the aisle, Dave's cousin told him to take a photo of Hillary! It was so sweet, and came out with a great iPhone photo. After they exchanged vows, in true adventurous fashion Hillary changed (behind a sheet on the mountain top) into a short white mountain biking dress and custom sparkly sneakers! The couple hopped on their bikes and rode down the mountain to share their first ride as husband and wife! It was so special and unique.
Hillary and Dave joined their guests for an intimate dinner reception at Secret Stash Pizzeria where they enjoyed all of the best things; pizza, ice cream, and bourbon! After a full day of getting married, riding down a mountain, and dancing the night away, I couldn't let them fun end there! I asked if they would be up for a sunrise photo shoot, and they replied, "Sure! What time should we meet you?" After resting for a few hours, we hopped back into nature and did a day-after shoot on the mountain, riding up and down the ski lift overlook the incredible scenery of Crested Butte. The sunrise, golden leaves, and amazing new friends made for the most perfect morning.
Just a note to all adventurous couples out there looking to get married on the side of a mountain, on the tip of a glacier, or in Hawaii on the Blacksand beaches, please call me to photograph your wedding day! Or on a snowcapped hillside in Canada, or amongst the tulips in Holland, or in a sheep filled pasture in Ireland, or a vineyard in Napa. This world is beautiful, and I would love to capture it with you! 
Now that you've heard my own dear memories of this epic Crested Butte wedding weekend, Hillary and Dave were kind enough to share their own stories below!
How did you two meet?
Hillary: David and I met online, Tinder to be exact. Nothing exciting. He was wearing a bike helmet and he had his shirt on (unlike many South Florida guys), so I swiped right. We went to a wine bar for our first date and he came running with me on our second date. I knew he was a keeper after he ran 4 miles with me. 
Dave: Hillary had just moved to Palm Beach from the Lauderdale area (she will correct me and say it's not Lauderdale where she lived, but anything south of Delray and north of Miami is Lauderdale to me) and apparently we both swiped left on Tinder. A couple days later we met up for a glass or three of wine at Blind Monk. She postponed no less than 38 times that day, but finally showed up. Side note, I thought someone else was her and ended up hugging a complete and total random stranger about two minutes before she walked in.  
Tell us about the proposal!
Hillary: We were on a long road trip, moving me back to Florida after I had been traveling for work as a physical therapist for nearly 2 years, and he proposed at the top of Mount Crested Butte in Colorado. It had snowed a couple days prior, which made the hike extremely difficult and dangerous due to the snowy/rocky terrain. We had to make our own path and I continued telling David that I did not want to die… and then he proposed. 
Dave: About a week beforehand we were in Wisconsin visiting her family and I asked her father for his blessing and I believe his response was something like "Well, of course!". Fast forward a few days and we were in our favorite little mountain town, Crested Butte. I didn't have an exact plan, I just knew that the right time would present itself. We spent a couple of days mountain biking and enjoying the area. We had plans to hike to the summit of Mt CB, but a big winter storm came in and we were not sure if we'd make the summit, but we set out with our great friend and her dog. We got about halfway up the hike to the summit and our friend's dog wasn't doing great, so she turned around and we soldiered on… in fresh powder… nine to ten inches deep… without snowshoes… or trekking poles… or waterproof shoes. We made it about 10 vertical feet from the summit and decided to stop there as the rocks were buried in snow and unstable. We sat there for a while and admired the view. I decided at that moment that this was the perfect place to ask Hillary to spend the rest of her life with me as her husband. The ring was in a presentation box, which was inside a box, which was inside a bag in my backpack (where it had been for over a week everywhere we went… just in case the right moment presented itself). I was digging around in my bag for what seemed like an hour trying to get the box out of the bag and then the box out of the box and the ring out of the box which was in another bow which was in a bag. I finally did and at that moment realized that I hadn't thought of what I might say in this most important once in a life time moment. Apparently I found the correct words, however, because she said yes right away. We called our parents and then headed down the mountain to celebrate.
What was your vision / theme for your wedding day? 
Hillary: Simple/Fun/Something involving mountains/mountain biking. 
Dave:
I really didn't have a vision other that it not be a stereotypical wedding. I just wanted to have a weekend-long party with our closest friends on our favorite mountain… and oh by the way we're going to get married in the middle of it. I didn't have an intentional theme, but if I had officially declared one, I suspect it would have been "go explore". Hillary and I both love the outdoors. We love to hike, run, mountain bike, camp, snowshoe… if it's outside, chances are we like it. I wanted a day without pretension and without the typical wedding weekend schedule that everyone has experienced. To that end we didn't have a wedding party, because no bridesmaid dress is ever loved by the woman wearing it and no one has ever looked great in a rented tux. These types of things are just added expenses for people and in our opinion take away from the enjoyment of the weekend. We encouraged all of our guests to do as much on their own as they could find interest in doing and we also provided people with some fun options if they weren't the best to self-motivate. Crested Butte is such an amazing place and most of our family and friends had never been there. We wanted them all to fall in love with the area as much as we have. Based on the feedback we have received I think our plan was a resounding success.
Why did you choose your venue?
Hillary: We wanted to get married in Crested Butte and we wanted to be able to ride our bikes down the mountain after the ceremony. We chose our reception venue because it is our favorite pizza place and who doesn't love all you can eat extraordinary pizza?!
Dave: We wanted a view of the summit and we wanted to mountain bike after the ceremony. We were completely over the moon when we found out that the resort had a ceremony site at the top of the lift used for the mountain bike park. The views were amazing and we got to mountain bike down after the ceremony. We have some amazing photos from the ceremony and on our bikes thanks to Sara and the crew. 
What were your most meaningful detail(s)? 
Hillary: Changing out of my wedding dress into a bridal running gown and mountain biking down the mountain after we got married. Also, seeing David cry when he saw me walking down the aisle was probably one of the best moments.
Dave: 
There's only one for me… that I got to marry my best friend and the woman I never thought I'd find with my closest family and friends as witnesses. 
What traditions did you include? 
Hillary: We had the traditional Canon in D song played on the electric guitar while I was walking down the aisle. We made our own unique playlist for the wedding with a mixture of both of our favorite songs and we got a lot of compliments for our good choice in music from our guests. 
Dave: 
I would classify our ceremony as pretty non-traditional. On the surface it probably resembled what people would think of as a traditional service, but there were so many little things that made it ours. We had flowers, but they were done by my mother. We had an officiant, but it was my cousin, who is more like my big brother. We wrote our own vows, but on custom note cards that I designed and printed. We had music, but it was electric guitar playing songs from Stevie Wonder, Queen, and others. We had a processional, but it was only Hillary with her mother and father and it was on a ski lift. We had an exit from the "venue", but we were on mountain bikes bombing down the mountain in our wedding attire. 
What was your favorite moment of your wedding day?
Hillary: I can only choose one? It was definitely one of the most amazing moments in my life riding my mountain bike down the mountain in a wedding dress. I also enjoyed hearing Davids vows and knowing how much he loves/cares about me by the way he looked at me on our wedding day. 
Dave: 
Mine was definitely seeing Hillary for the first time as she came up the mountain on the chair lift in her dress. Second to that would be mountain biking down to the base area in my tux.  
Did you write your own vows?
Hillary: 
Yes! I was writing and rewriting mine up until the morning of the wedding and David wrote his within a 20 minute time period weeks prior. Our vows were both uniquely us.
Dave: 
Yes. Hillary and I decided that our own words would be far better than any that anyone before us had decided was important. Hillary was concerned I wouldn't have mine finished early enough so we set a deadline about a month before the wedding. I did mine in less than 10 minutes about a week later. Hillary was still revising hers the night before, maybe even the morning of, the wedding. For me, the right words are almost always the correct words because they are the ones that come without my thinking about them too much and so they are the most accurate to how I truly feel. 
What was your biggest challenge during planning, and what did you enjoy most?
Hillary: Biggest challenge was other peoples opinions on what we should and shouldn't be doing and who we should and shouldn't invite. We ended up making the decisions that were best for us. The part that I enjoyed most was planning our wedding mountain biking outfits / adding a veil to my bike helmet / decorating my converse shoes! 
Dave: 
If we had one, I am not recalling it. We didn't do a lot of planning. We just made a list of things we needed to get done and took care of them one at a time. Deciding on which pizzas (yes, our main course was all you can eat gourmet pizza) took a long time, but only because they are all so delicious.
What advice would you give to brides planning their wedding?
Hillary: Don't spend money on things that don't matter and don't listen to everyone else's opinion. This is your wedding. 
Dave: 
You do you. Don't over think it. Don't let other people (parents or otherwise) dictate how you should live your life. Make decisions together with your future spouse and move on. Make your day an accurate reflection of who you are as a couple. These are all simple attitude and perspective adjustments. Just own it. 
Why did you choose Sara Kauss Photography?
Hillary: David met Sara on an airplane and told me once we got engaged that he would love to have her an our photographer. After I looked at her instagram page and met her in person, I was sure we made the right decision. Sara has now become a good friend and I love the story of how we met. 
Dave: 
First, we didn't chose Sara, she chose us. Sara is an absolutely amazing photographer. Anyone can take a photo. Lots of people can take great photos. That's not a photographer in my mind. It takes a special person to be a true photographer… obviously you have to be great at taking photos, but you also have to have a special perspective and attitude that I don't think can be taught. We are so fortunate that Sara agreed to fly to Colorado, drive 5 hours, and be our photographer. I can't imagine having anyone else behind the lens. I met Sara on a plane about a year before we got engaged. I was really impressed with her photojournalistic style. It was so different than the typical wedding photographer. I showed Hillary her instagram account and she agreed with my assessment. Once we were engaged and started planning things, Sara was front and center for us. We knew that if she was available, there would be no better match for us. Working with Sara was a breeze. She is such a warm, loving, and fun person. We are truly thankful that we also now get to call her our friend.