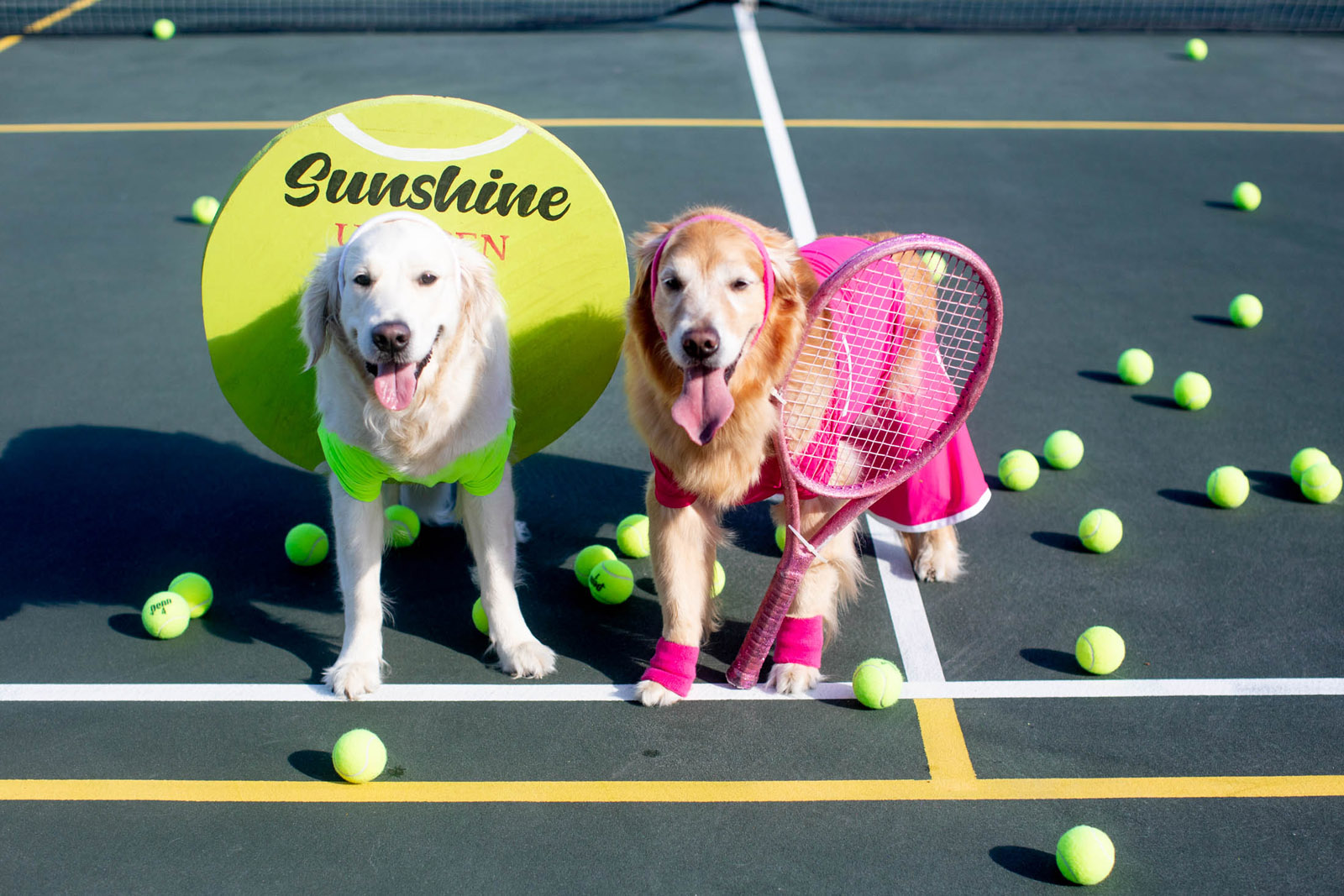 31 Oct

Best Dog Halloween Costume | Sunshine The Golden Retriever
Best Dog Halloween Costume Ever by Sunshine the Golden Retriever

 
Guest Blogger, Sunshine the Golden Pup, would like to share her Halloween Costume idea with you (you can follow along to her antics on Instagram at @sunshinethegoldenpup as well as http://Facebook.com/sunshinethegoldenpup)

 
As Mallory Square and I were planning our halloween costumes this year, we were discussing how much we love to fetch tennis balls.  I actually would like to be a tennis ball.  "That's it!" said Mallory Square,  "You be the tennis ball and I'll be the tennis player!"  So our mom went to work designing our dog halloween costumes, hand painting a cardboard tennis ball cutout for me, using Gorilla Spray Glue (from Home Depot) and about a pound of pink glitter for Mallory Square's tennis racket.
Last week, my mom surprised us with 100 tennis balls in a box from the friendly FedEx man. Actually, they were from http://Amazon.com, but the FedEx truck driver is so fun and always brings dog biscuits.  We like him.  You have to see our slow-motion reaction on my dog instagram to 100 tennis balls falling down on top of us!
Mallory Square's outfit was a girls size pink Nike Court tennis skirt and top and came from http://Poshmart.com. Mine was an Adidas neon yellow top that my mom already had in her closet.
As Halloween got closer, Mallory Square and I just couldn't help but get excited about the idea of going to a tennis court to take the photos.  We really liked last year's Unicorn Dog Costume and Lion (which you can also see at http://instagram.com/sunshinethegoldenpup), but this idea was going to be much more interactive. We get to GO PLAY TENNIS!!  I mean… what Golden Retriever, or any dog for that matter, doesn't LOVE running around a tennis court fetching tennis balls?
Halloween was exactly as we expected, except Mallory Square definitely stole the show by showing off her intense tennis skills.  My sister definitely has moves on the tennis court.  She also stopped playing for a bit to play photographer with mom, behind the lens.
Check out our photos from today, and remember that it's not about winning the game that matters, it's about enjoying the time chasing your dreams (or tennis balls in my case).  #DreamBig #PlayTennis
Leave a comment and let us know how you think we did on our outfits!  And what did you dress your puppy up as for Halloween this year?

 
______
This isn't the first time that we've blogged about cute animals at http://SaraKauss.com  – make sure to check out our baby chickens that get married in our Chicken Wedding Blog here!