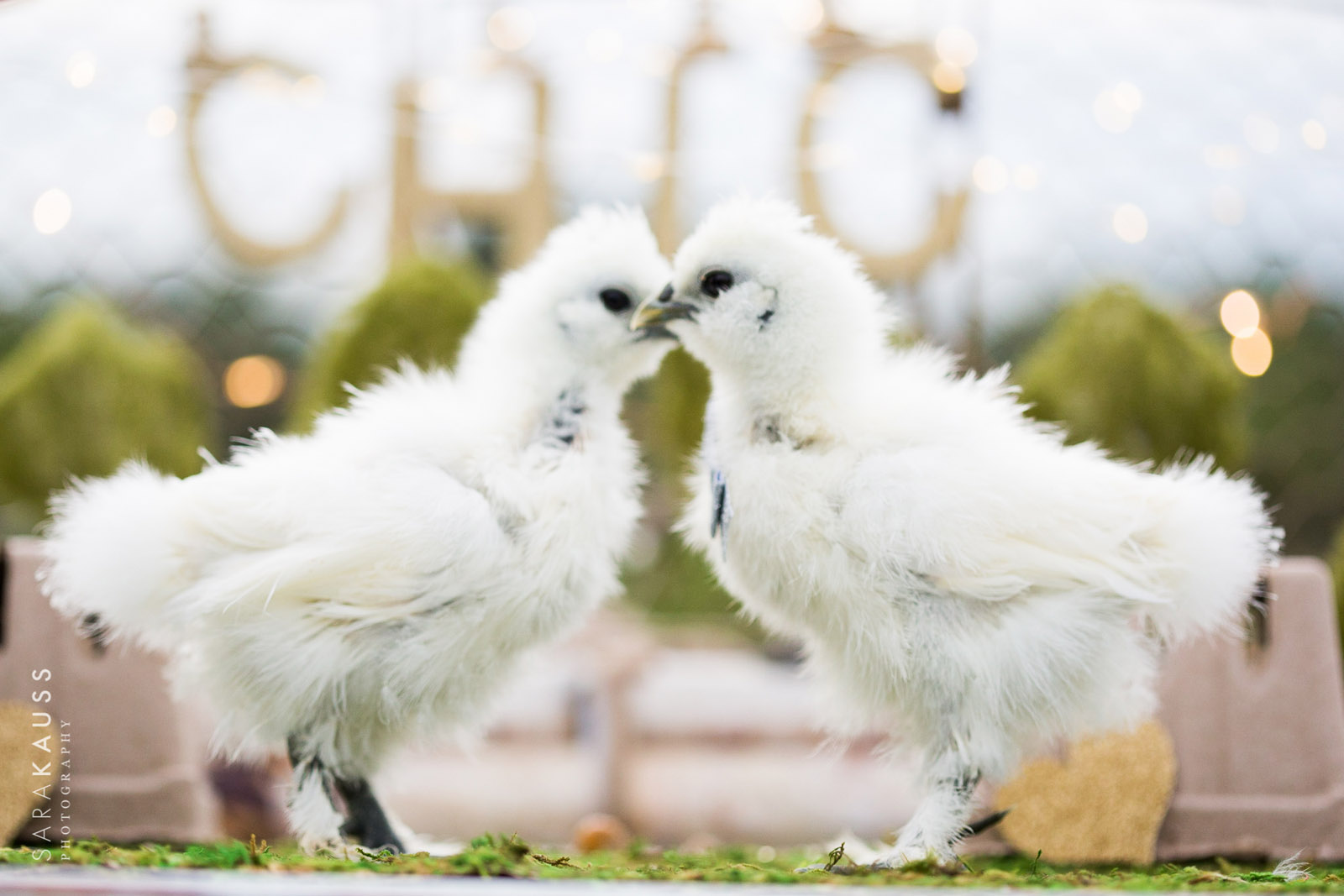 28 Mar

Shabby Chick Wedding
Corby Blue and Ava Lee Chic Say "I Do!"
As I was "babysitting" my neighbor's hatching chickens one Saturday, the idea came to me.  These little chicklings were about to start upon a new journey, a new adventure in the world of Jupiter, Florida.  Thinking about it, my website and the Sara Kauss Photography brand was also undergoing a sort of "hatching" with new and exciting things.  A fabulous, all-platform-friendly website (created by Alyssa and Adam Wald of Wald Creative in planning and design collaboration withVisual Wave Design) and a fresh, modern new logo (created by Davis Streker of Visual Wave Design) is about to grace the world of SKP (Sara Kauss Photography).  It was here the idea of the Shabby Chick Wedding was born.
When my mother-in-law called the day of the Chicken Wedding and asked what I was up to, she sounded a bit perplexed when I said "well, Tina and I are photographing a Chicken Wedding."  "A chicken wedding?  A chicken themed wedding?" "Nope, actual chickens getting married… it's a long story!  Gotta go, one of the bridesmaids is getting restless."  — and so, with the help of my amazing associate, Tina and the use of our neighbor's baby chickens, this adorable story unfolded in front of my camera lens.
The Story of the Shabby Chick Wedding
Corby Blue Chic planned his surprise proposal for months. How was he going to pull off the ultimate "will you marry me?" to Ava Lee?  When it came down to it, Corby Blue asked one of his best friends to assist in hiding the wedding ring in the woods near their nest.  In big sparkly gold letters, Corby Blue painted the words "Marry Me?" next to their favorite spot to perch.
With the help of venue manager, Katie Arbogast, they planned an Easter Sunday wedding day at Lucky Old Sun Ranch.  The wedding went as scheduled, no one chickened out.  They hired only the best vendors to help make their shabby chick wedding a perfect weekend for friends who were flying in and ones that roosted locally.  Corby Blue and Ava Lee invited only a small clutch of chicks to attend.  The bride wore Sea Lustre Jewelry Pearls along with a veil made from Bella Bridesmaids sample fabric and the groom fancied a bowtie striped in black and white.  With a little help from a human, Ava Lee was able to prepare for her wedding without ruffling her feathers.  Corby Blue, on the other hand, strutted around with his groomsmen gear and in the end was fit to be tied.
The Ceremony: With guitar in tow, the wedding singer claimed his own little nest.  Ring bearer Peter Cottontail nestled Ava Lee's engagement ring in his soft fluff as he carefully hopped down the isle.  The newly hatched Silky chickens boasted a beautifully deigned sign, that Ava Lee found on Pinterest, which read "Here Comes The Bride."
The bride and groom listened attentively as the young minister chuckled his way through their "I Do's." With a song in their heart and kiss on their beaks, the chickling minister announced them Husband and Wife and declared "You May Now Peck The Bride."  Everyone chirped with excitement as the newly married love birds departed in their get-away cart!
The Reception:  A shabby chick wedding wouldn't be complete without wild flower arrangements, by Eve of Garden of Eve.  Bistro lights and a sparkling dance floor invited even the most discerning of fancy chicks.  Each reception table featured custom painted sparkle hearts and William Sonoma chicken cake pops.
As Ava Lee and Corby Blue strutted into their reception, the band played the Chicken Dance – a perfect introduction for the winged pair.  Toasts were made and after endless repetitions of "I said, I said, I said, Son!" he finally delivered his heartfelt message… "always tread lightly in puddles, try to fly toward your dreams even though your wings may be clipped and never leave too many eggs in one basket" — a memorable and entertaining speech by Corby Blue's best man, Foghorn Leghorn.
Before the last sparkle left the star-lit sky and the bistro lights flickered out to sleep, a beautiful cake created by Anna Cakes was cut.  Anna Cakes created a custom masterpiece wedding cake adorned with hand painted gold chiclets and the most fabulous frosting flower any feathered friend has ever seen.  The day, the evening, the love was as perfect as any couple could have imagined and it was all captured flawlessly by Sara Kauss Photography – to whom these little chickens gave a huge pen of thanks.
Their wedding day flew by.  The Chic family and friends are living in a lovely little shack at Heels Up Hideaway Farms, down the road from their wedding venue, where they will live happily ever after.  (A huge thank you to the Rhineholz family for allowing me to create this silly shoot with their baby chickens 😉
If you loved reading about Ava Lee and Corby Blue Chic's love story, please make sure to share with your peeps on social media and tweet this link 🙂