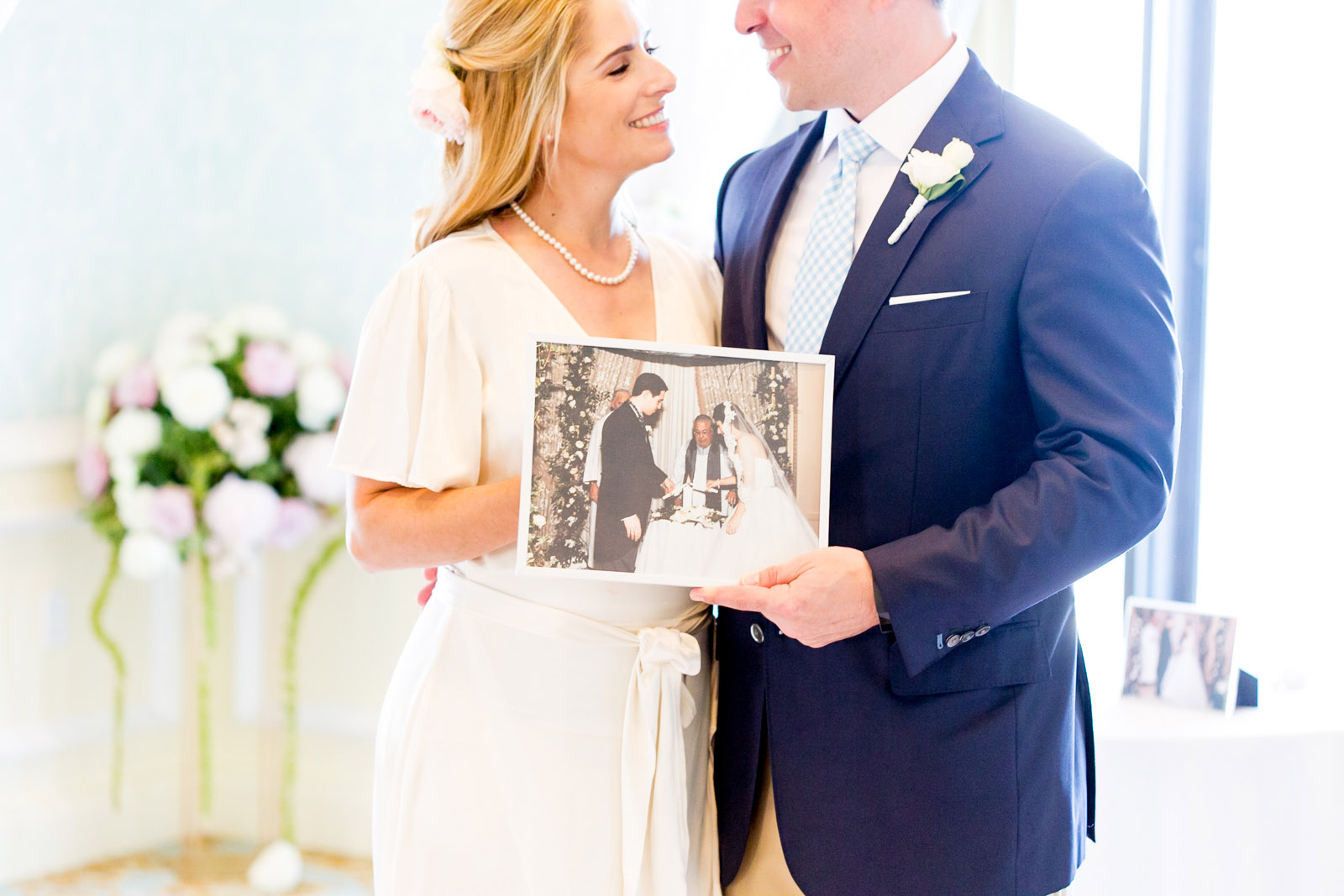 25 Sep

Surprise Vow Renewal at The Breakers
Meredith and Ryan's Surprise Vow Renewal at The Breakers
"Please be assured that when we received your photographs, time stood still!!!  We are floored!!!  They are spectacular ❤️!!!  The glow of the lighting, the emotional moments, the faces, the kids…THE BREAKERS…don't even know where to begin and certainly don't know where to end!  This extremely special event in our lives is now beautifully captured forever. Thank you." – Meredith
When Ryan reached out to us to share his idea of surprising his wife, Meredith, with a 15 year vow renewal, we might have teared up just a bit! It was the sweetest sentiment we had ever heard, and the entire day turned out jut as perfect as he planned. With the help of Sacha at The Breakers Palm Beach and their wedding design team, we were able to turn a sunset family portrait session into the most meaningful, emotional, surprise vow renewal. 
During our conversations with Ryan while planning the day, he shared with many sweet details about his wife and family. The couple met when they were just 11 years old, but she didn't give him the time of day until they were 18! Fast forward to their 15 year anniversary, they now have two sweet, beautiful children; 8 year old Nora and 10 year old Bennett. Meredith's father and step-mother live in Jupiter and were able to join them for this special day. Their family often vacations at The Breakers, so Ryan knew it was the perfect place to renew their vows.
Ryan told Meredith he was arranging a family portrait session, and that they could exchange private vows along the ocean wall. He was able to persuade Meredith to have her hair and makeup professionally done for the photo shoot to complement the elegant, white satin dress she wore. Ryan and his son, Bennett, wore navy blue blazers, and their daughter Nora matched her mother in a lace, white dress. They all looked stunning! 
While we met with the family outside for photos, The Breakers team was hard at work preparing the ceremony space inside The Gulfstream room for the surprise vow renewal. The aisle was lined with soft pink floral arrangements, rose petals, modern gold flower stands, hanging greenery, and a romantic Chuppah. Not only were the decorations beautiful, but Ryan thought of every meaningful detail to include. He brought their original Ketubah (a Jewish marriage document) and had a new one created for their renewal. He tracked down the son of the Rabbi who had married them 15 years ago, and flew him all the way from New York to officiate the ceremony! The space was decorated with stunning photos of the couple from their wedding in June of 2003. 
Meredith's reaction was priceless as she entered The Gulfsteam. As she heard the string quartet playing and saw the stunning decorations, she thought she was crashing someone else's celebration! When Sascha handed over Meredith's pink rose bridal bouquet and she realized it was all for her, she couldn't contain her emotion. Ryan was so thrilled that the surprised was kept, especially after months of planning and dying to spill the beans! 
Nora and Bennett didn't know they would be flower girl and ring bearer for the day, but they did a fabulous impromptu job! The vow renewal ceremony was intimate and emotional, as Meredith and Ryan exchanged new, personal vows. There was not a dry eye in the room, including us behind the lens, the musicians, and The Breakers staff! It was absolutely heartwarming to witness the love and devotion they have for each other and their family. After Ryan and Meredith signed their new Ketubah, they headed back outside for more sunset portraits around The Breakers.
The surprises didn't end there, as Ryan had arranged for the family to have an intimate dinner reception in another small ballroom. The table was spectacularly set for six, with embellished white linens, pink roses on each plate, and candles sparkling around the room. The string quartet softly played in the background as we awaited their arrival for Meredith's final surprise. Sacha and Sara arranged to convince the family to come inside for "one last photo" as they entered the room. Of course Meredith was shocked again, as were the kids! 
As the family entered the room, the musicians played "Love Train" which transitioned into, "The Way You Look Tonight" which was their first dance song at their wedding 15 years ago. Meredith and Ryan shared a sweet first dance, followed by an emotional dance with her father. With no detail left out, Ryan had The Breakers recreate their original wedding cake design, but this time they were able to cut the cake with their children!
To say we are honored to have been part of this surprise vow renewal is an understatement. Ryan and Meredith, this was truly a meaningful display of love, marriage, and devotion, and we are so happy to have been part of it. Congratulations on 15 years, and cheers to many more! 
Vendor Partners
Venue: The Breakers Palm Beach
Planner: Sascha LaGreca at The Breakers
Florals: Jennifer Herrera  at The Breakers
Musicians: A1A Strings