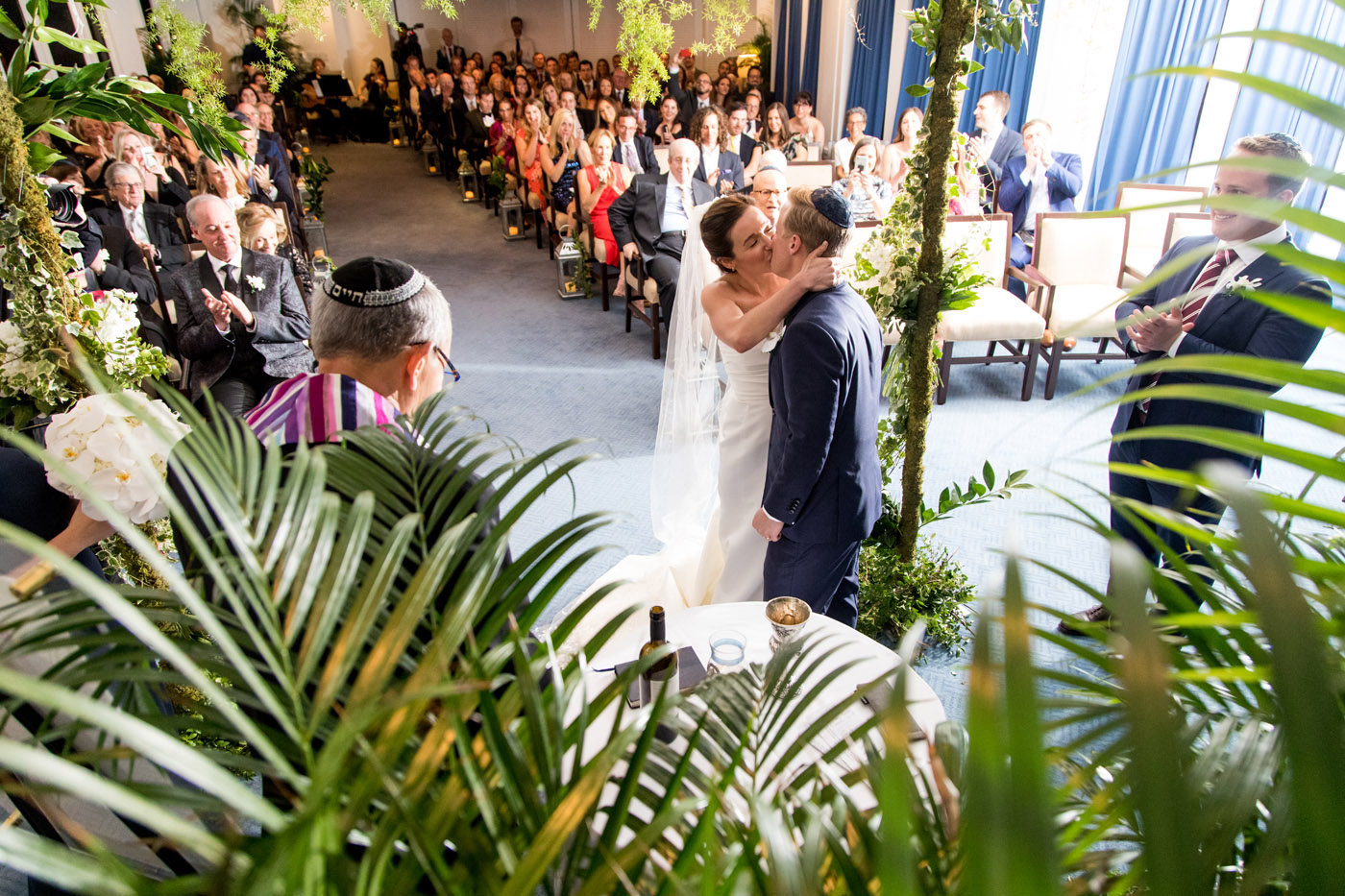 26 Feb

Sailfish Club Wedding | Taylor and Daniel
Taylor and Daniel's Sailfish Club Wedding
Taylor and Daniel's Sailfish Club wedding was filled with colorful florals, tropical elegance, and so much love! From the light and airy getting ready space at The Chesterfield Hotel, to the waterfront ballroom at The Sailfish Club, so much beauty filled their day. Taylor and Daniel took a few moments to share with us the small-world story of how they met, how Taylor "ruined" Daniel's proposal 🙂 and what they remember most about their Sailfish Club wedding day!
How did you two meet?
We met on Tinder! I was a junior in college at the University of Colorado Boulder and Daniel had just graduated college that spring. We matched on Tinder and decided to go out on a first date. It sounds cliche but it really was love at first sight. And strangely enough, on our third date we were playing Jewish geography and we discovered that our families had been long time friends. It was pretty surreal that the two of us had ended up all the way in Colorado for school, matched on Tinder and had all of this family history we never knew about.
Tell us about the proposal!
So, there are two different stories here, depending on who you ask. If you ask Daniel, he'd probably say that I "ruined" his original plan to propose. He had planned this whole day at the Dallas Zoo to go "behind the scenes." We were supposed to go feed the animals, ride the elephants and see how things worked. If you know Daniel, you know that this is basically his dream come true. He always says that when he retires he wants to work at the zoo. I had a hunch that he was planning to propose at the zoo that weekend. Now, if you know me, I am not a very public person and very much a homebody so I'd always imagined my proposal to be intimate and in my home. I called him out earlier in the week one night and said "You better not propose at the zoo." I didn't think much of it after I said that but it sent Daniel into a whirlwind. He had to come up with a totally new plan in two days. Leave it to me to throw a curveball. So that Saturday morning we woke up and headed to brunch with friends. Everyone was coming back to our house after for what I thought was going to be a fun day by the pool. I opened the door to our house and standing there was my dad and sister. Our kitchen was full of flowers, photos of us and all of my favorite foods (very me). Daniel got down on one knee and popped the question. And I said YES!
What was your vision / theme for your wedding day?
The vision for our wedding changed drastically throughout the planning process. We worked with the fabulous Absolute Event team and they really helped us create the entire theme for our wedding weekend. It was elegant, classic and very Palm Beach. We couldn't have imagined anything more "us."
Why did you choose your venue?
Our venue, The Sailfish Club, was a place that I went to many times as a child. I grew up swimming in the pool and riding my bike past it on the lake trail. When Daniel and I visited together, we knew right away that it was the venue for us. The entire team there was so welcoming and as soon as you walked in you felt like you were a part of the family. Thats exactly the feel we wanted for our wedding.
What were your most meaningful detail(s)?
Daniel and I have both lost two very important people in our lives and on our wedding night, we each chose to wear a little something that they had left to each of us. No one else knew, except us, so it felt very special to have them be a part of our night. We also chose not to attend our cocktail hour. Instead, Daniel and I took some time to ourselves and this was probably one of the most memorable moments from the entire evening. It gave us a chance to pause and take in the moment.
What traditions did you include?
We had a few traditions that we included throughout the night. During the ceremony, we built our chuppah using the talit was a bat mitzvahed in. It was made in Israel by a friend and it is so special to our family.
Our music was all handpicked. Our incredible band from Tropic Entertainment really let us take the lead of what they sang that night. We were able to pick all our favorite songs, which made the night even better.
What was your favorite moment of your wedding day? 
I think we both agree on this one. Daniel and I decided to sit at a sweetheart table during our meal. We spent so much time trying to figure out who would sit at our table but in the end we just couldn't nail down the list so we decided to sit just the two of us. Probably one of the best decisions we made because while everyone was eating we were able to take it all in. I reached over and grabbed his hand and told him to just look around. Everyone was there for us. There was so much LOVE in the room. It was electric.
Did you write your own vows? Tell us a little about them!
Instead of writing vows, Daniel and I wrote letters to one another that we read just before we left for our first look. The letters served as a small reminder of the journey we've been on together and where we are headed. I personally loved this touch, as we are more private, so it was perfect for us.
What was your biggest challenge during planning, and what did you enjoy most?
The biggest challenge for us came when we started getting into the little details. We had a long engagement so we had chosen all of the big things but then came all of the additional things we never thought about. This led us to making probably one of the best decisions we'd made during this process, hiring our planner, The Absolute Event. From then on, everything was enjoyable. It changed our entire planning process and made our big day better than we could've imagined.
What advice would you give to brides planning their wedding?
I'm sure you hear this all the time but seriously DO NOT sweat the small stuff because it really is just small stuff. It doesn't make a difference or change the outcome of the day. You are there to marry the love of your life and that's all that's important.
Why did you choose Sara Kauss Photography, and what was your experience like working with us?
Sara's work capturing my heart from the moment I saw it. I kept looking at Palm Beach weddings and would click on photos. Every single time the photo I had chosen was taken by Sara. It was a sign. Choosing Sara to shoot our wedding was one of the very first decisions we made so she was along for the entire planning ride. Sara immediately picked up on our vibe and fit perfectly in the mix. She capture the true "us" and made it all feel so very natural.
Vendor Partners:
Getting Ready Venue: The Chesterfield Hotel
Ceremony & Reception Venue: The Sailfish Club 
Wedding Planner: Absolute Wedding & Event Planning
Florals & Lighting: Dalsimer Atlas
Hair & Makeup: Paul Labrecque Salon
Officiant: Rabbi Howard Shapiro
Music / DJ: Entourage with Tropics Entertainment
Bride's Attire: Carolina Herrera
Groom's Attire: Knot Standard
Videographer: Matt Bergbauer