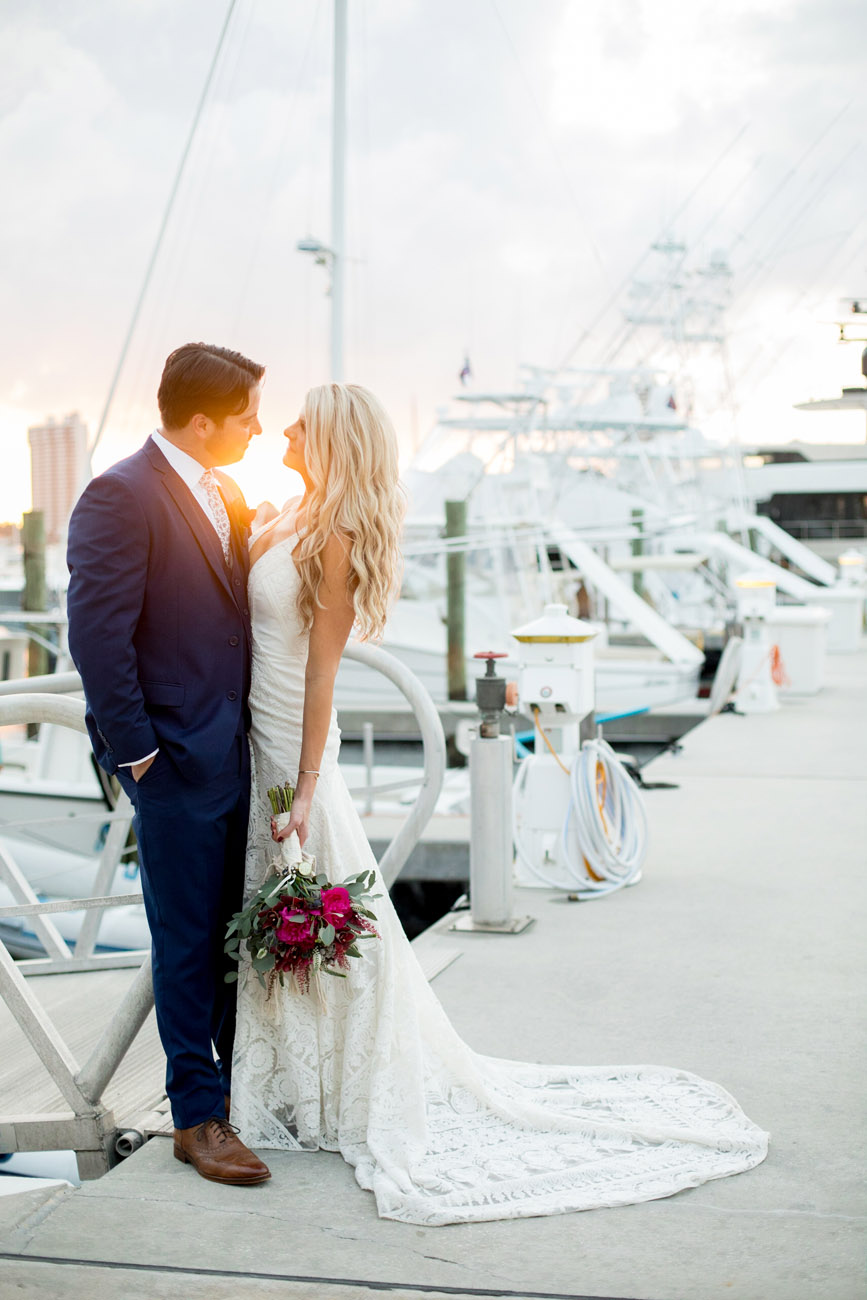 04 Jun

Palm Beach Wedding | Cara and Todd
Cara and Todd's Palm Beach Wedding
Cara and Todd's Palm Beach wedding day was the perfect blend of coastal Florida flavor with a beautiful bohemian twist. Set on the Intracoastal waterway with the most beautiful sunset, we were so fortunate to capture their gorgeous day. Their sweet story is best told by the bride below!
From Cara: "Todd and Cara first met in 2001 during their freshman year at Cardinal Newman High School. The couple didn't start dating until 2015 after they both graduated from the University of Florida and moved back to West Palm Beach to be close to their families. Todd and Cara reconnected at a memorable "welcome home" happy hour party for a mutual friend, and their fast courtship naturally followed in tow. On April 14, 2017, Todd surprised Cara with a private proposal at their favorite spot on Palm Beach Island under the guise of his own birthday celebration. Todd also hired Sara Kauss Photography to go incognito and capture the memory with an impromptu engagement photo shoot that reflected the excitement of the moment.
After just two weeks, Todd and Cara set the sentimental wedding date of February 3 (2018), Cara's late mother's birthday, to include her memory in their day. The venue was a no-brainer, Sailfish Club of Florida, as a familiar favorite of the couple that offers impeccable service while effortlessly reflecting their shared love for fishing, boating, and all things coastal.  With that in mind, Todd and Cara planned an unplugged outdoor ceremony on the water with a bohemian vibe filled with macramé, romantic touches of velvet, and laid back live music. The ceremony was performed by Cara's oldest brother, Chris, lined with personal anecdotes and vows written by the couple themselves. It closed with streamers waving and literal wedding bells ringing as the newlyweds recessed down the lantern-lined aisle and cocktail hour began.
The couple kept most aspects of the day local, with Todd and his groomsmen in suits by Marcos Tailor and a morning together at Todd's parents' home in historic Southland Park. Todd and his pride and joy puppy, Tyson, even sported matching floral ties in the groomsmen's photos at the home before the boys were escorted by Molly's Trolleys to the 4pm wedding. The bride and her maids were beautified by Jessica Reed out of Nashville, TN on site at Sailfish Club. After an unfortunate defect in her initial gown purchased months earlier, Cara found the dress of her dreams just one week before the wedding. Cara bought her new gown off the rack at Lovely Bride Miami, following some desperate pleading due to the gown's popularity. Her dress is the bohemian archetype, "Cosmic Coralee" from Rue De Seine's "Moonlight Magic" Spring 2018 line, fitting the relaxed coastal mood of the day.
Todd and Cara had a guest count of 165 of their closest family in friends from all over the country to share their day, staying true to their own tastes with great food, libations, live music (by South Florida musicians, Making Faces) and dancing. The day was filled with plenty of personalized touches, from their handmade ring boxes and vow books to their #CuryOnDeck hashtag and "Hooked" koozies and cake topper. They ended the reception with strobing glow sticks that read "Get Cury'd Away!" for the guests to wave as they lined the walkway and bid farewell to the newly married couple. The wedding was diligently planned by Katie Arbogast Stubbs of 59 and Bluebell, and the footage was captured yet again by Sara Kauss Photography, with videography by Mike Varel. The gorgeous jewel-toned flowers and clean coastal decor were provided by Anne Rhodes of Floral Elegance. With all the incredibly talented vendors that collaborated to execute the Cury's very own "Best Day Ever", the couple couldn't be happier to have pulled out all the stops for a wedding surrounded by their favorite people in a city they are so lucky to call home."
Vendor Partners:
Venue: Sailfish Club of Florida
Planner: 59 & Bluebell
Videographer: Mike Varel
Hair & Makeup: Jessica Lindsay 
Transportation: Molly's Trolleys
Grooms Attire: Marcos Tailor
Bride's Attire: Lovely Bride Miami, Rue De Seine
Florals: Floral Elegance
Music / DJ : Making Faces
Cara and Todd's Highlight Video by Mike Varel