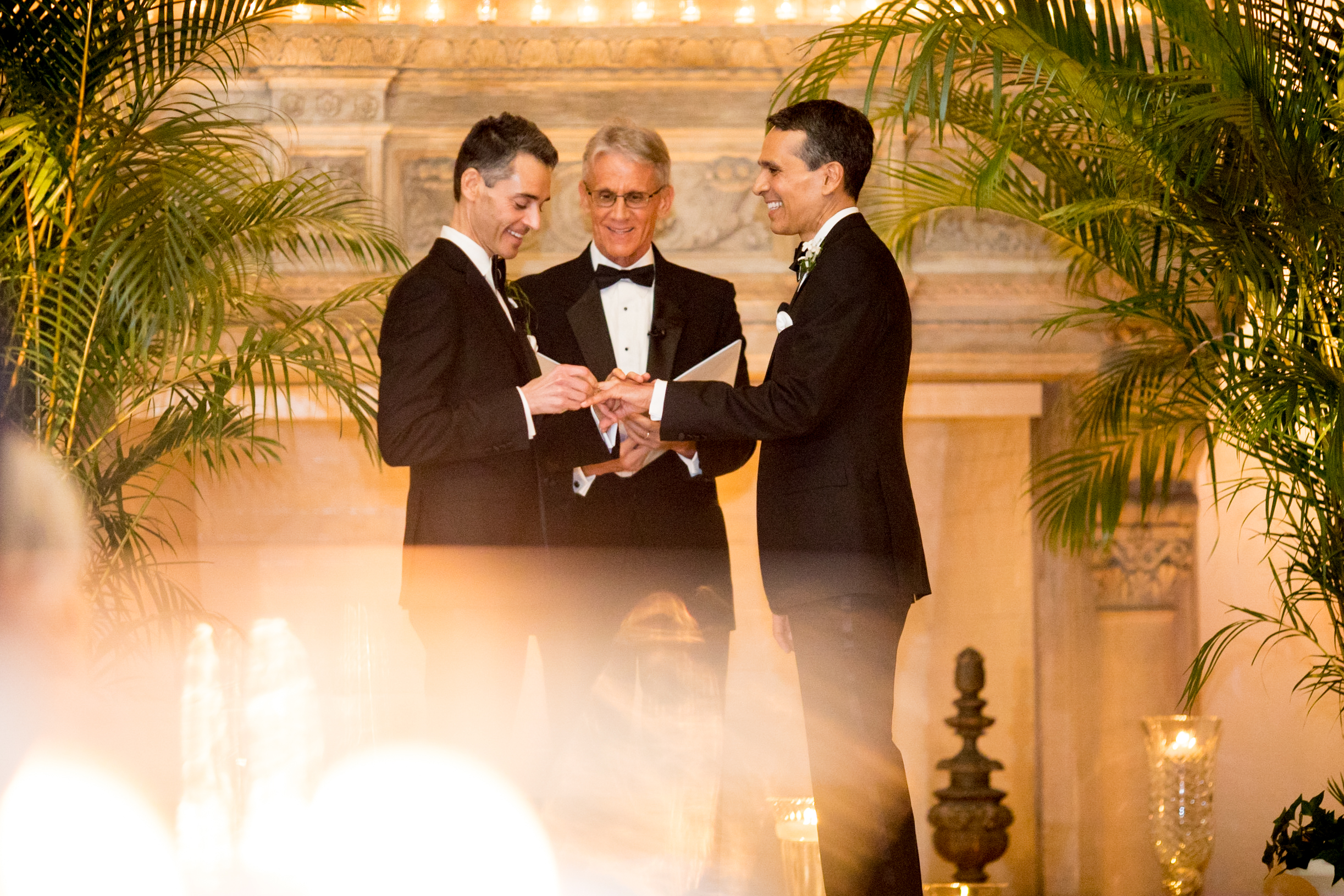 18 Mar

Palm Beach Breakers Wedding | John and Miguel
John David Corey and Miguel Angel Rosales' Palm Beach Breakers Wedding
John and Miguel's Palm Beach Breakers wedding was the epitome of elegance and beauty. The entire day was filled with so much love between the couple and their friends and family, from both Boston and Palm Beach.
John Corey, a real estate investor, and Miguel Rosales, a bridge designer and architect, reside in both Palm Beach and Boston. Together for over 15 years, they are passionately active in civic and community actives in both Beacon Hill and Palm Beach.
John and Miguel hosted a welcome cocktail party in their elegant and timeless Palm Beach home, Villa Speranza, the evening prior. On the day of their Breakers wedding, they spent the morning at Villa Speranza getting ready for the big day. The grooms donned bowties and boutonnieres to accent their custom made tuxedos, courtesy of Antonio Ayala Custom Tailor from Hanover, MA. Their custom black tuxes perfectly paired with the iconic Breakers Palm Beach wedding venue, as well as the light evening gowns and black tie attire worn by their guests.
The ceremony was held in the The Breakers Gold Room and was officiated by Ned Barnes, president of the Palm Beach Civic Association. The aisle was lined with candles and greenery, and the room sparkled with golden accents, soft light and chandelier glow. John and Miguel shared sweet and playful vows that they personally wrote for each other, as laughter and tears filled the room. Following the ceremony, guests enjoyed cocktails under the stars in the Mediterranean Courtyard.
The reception took place in the stunning Mediterranean Ball Room at The Breakers, with breathtaking palm frond centerpieces, gold and green accents, glowing candles, and white linens. John and Miguel took the ballroom floor to share their first dance as husbands, followed by a sweet dance with their mothers. They welcomed many guests from the Beacon Hill Garden Club, who shared a group toast to the newlyweds. John and Miguel, along with their guests, friends, and family enjoyed live music by The Social, an Elan Artists band, and danced the night away, not to be shown up by the sweetest dancing flower girl, Tula!
For our team, it has been such an honor getting to know John and Miguel, and being part of their absolutely stunning Palm Beach Breakers wedding day. Thank you for entrusting us to capture your celebration and cherished moments!
Wedding Announcement: Beacon Hill Times
Vendor Partners:
Venue, Catering and Decor: The Breakers  – Sal Rasciot
Music:  Elan Artists – Johann, The Social
Grooms' Attire: Antonio Ayala Custom Tailor
Officiant: Ned Barnes