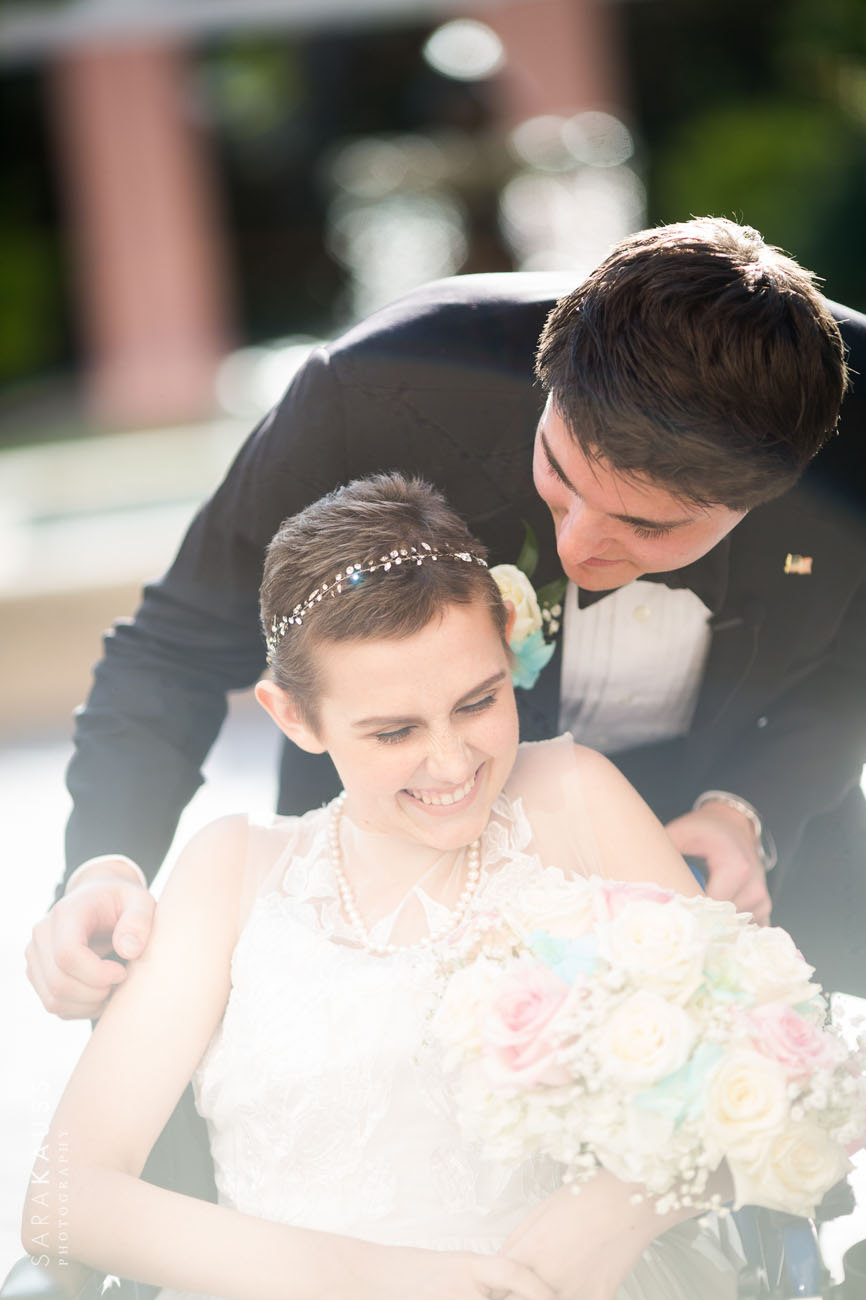 29 Jul

Make-A-Wish Wedding | Elise and Jacob

Today as I make this drive on highway 70 through the center of Florida, passing beautiful ranches on a crystal blue sky with fluffy white clouds, I am deep in thought about the perspective of life. I am so thankful for many things in my life, including health and family. I am heading to photograph a wedding for an incredible girl who is suffering from life threatening medical conditions. Her wish is to marry her loving and devoted boyfriend, Jacob, and be joined with him in the eyes of God. The Make-A-Wish Foundation, who helps so many people across the country, made her dream wedding wish a reality.
Make-A-Wish Wedding
The wedding was more beautiful than I can put into words. Families and friends of Elise and Jacob gathered at the Vinoy in St. Petersburg to share in a calm, unified celebration.  Everyone was so excited and kept raving about how beautiful and happy Elise looked! The day began with your typical pre-wedding scene of hair and makeup for the girls by The Destiny and Light, and happy friends laughing and carrying on like bridesmaids always do! It was the start of a perfect day.
With the help of a team of incredible people, Elise's nurse, Sara, and flawless wedding planning execution by the Make-A-Wish girls, the day turned out just amazing. Marissa, Amanda and Kelly, putting together this wedding in a week is an incredible feet, and it was magnificent!
Elise was strong, breathtaking, and overjoyed throughout the entire day.
At the end of the evening, I was fortunate enough to run into Elise's parents at the hotel and get to know their family and her story just a little bit better. They are beautiful, strong and faithful people. Elise is surrounded by incredible people and I am thankful to have been a part of such a glorious day.
I am excited that Marty with Reinhardt Productions also came over to capture their wedding day on video. I know that he will tell their wonderful story in an impactful video.
Be Thankful!
During these past few months, my personal and business lives have been such a whirlwind of travel and work and working travel. I am thankful to have a career where I get to do what I love, working with people to capture their incredible and unique stories through photography.
As I reflect on my opportunity to be part of Elise's journey, I think about all the things that we do and don't have control over in this life. The decisions that we make lead us to where we are right now. There are so many things over which we have no control, like Elise's condition or how much time we have in this beautiful world. Today and every day, we should all be reminded to be thankful for the blessings with which we are surrounded. Thank you to Elise, Jacob, their families, and Make-A-Wish of Central and Northern FL for allowing me to be part of this incredible day.
VENDORS:
Names titles of MAW staff/volunteers:
Wish Coordinator- Marissa Bates
Development Coordinator – Amanda Fontana
Wish Granting Volunteer – Kelly McCollum
Reinhardt Productions
The Destiny and Light
Vinoy Hotel
Malindy Elene Bridal