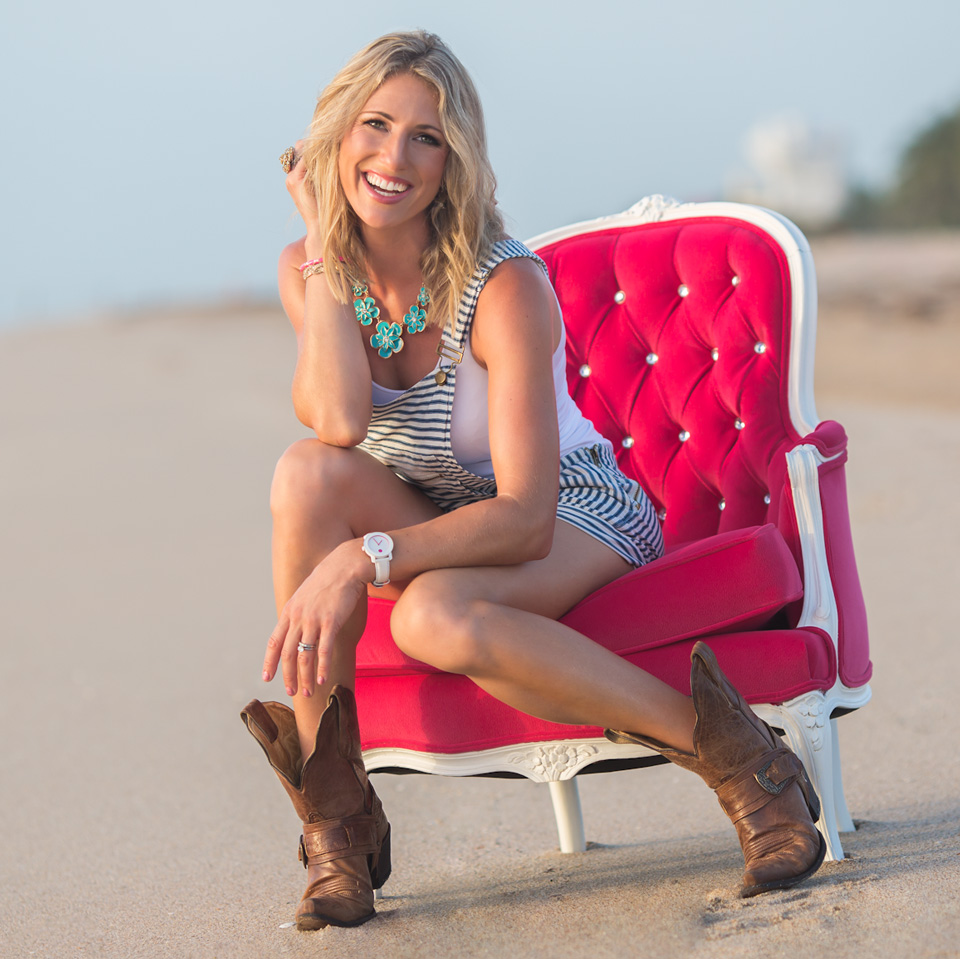 08 Sep

For The Love Of Pink!

It's been quite a few years since my sweet friend, Jessica Lorren took this profile photo that has branded me as the photographer with the flippy hair.  Thank you, Jess!  I've loved this image, it has been used in Photographers magazines, articles about me and blog posts world wide for a couple years now. Sara Kauss Photography on creativity, crafts, and capturing a new brand image… all for the love of pink!

I figured, it's time for a fresh SK face to stay consistent with my photography style.  I've become branded as a Nashville musician photographer with the pink sparkling camera and destination wedding photographer with a flare for anything silly and fun!  Video director and all around visual entrepreneur. Needing a new photo to reflect this side of me, I set to work on designing my Sara Kauss photo-shoot!  (There's also really fun website and other "all things Sara Kauss" projects in the works too 🙂

When developing a treatment for any photo-shoot, you start with the elements of who that person's brand is.  Who is Sara Kauss?  Sara (me 🙂 is PINK!  And fun!  And sparkly!  And silly and wears cowboy boots and lives in the beautiful ocean side town of Jupiter, Florida.  Mom to two Golden Retrievers and wife to a fun-loving outdoorsman.  I call Nashville my second home and love to shoot in the most unique places around the world from glaciers in Alaska to volcanos in Kona.  You'll never find me anywhere without a bedazzled Canon SLR in hand 🙂

While designing three other photography shoots with country music artists, Sarah Darling, Brooklyn Marie and makeup artist, Jessica Lindsay (Instagram: @ReedMyLipstick & Twitter: @TheJessicaLindsay), I set to work on creating my own shoot treatment.
On my Pinterest board of inspiration was this shot of Betsey Johnson I found on Instagram, my favorite pink loving person!  So, the first step became to find a pink chair to shoot in.  A little fun accent…for my loud-laughing, personality.  Scouring the internet, Craig's List and Pinterest for the perfect pink chair, I came up with nothin'.  All photo-shoots have that something, that really makes the shoot unique.  For my shoot, that was a rockin' pink chair!

As my BFF Sarah Darling, would put it, it's not past me to make a Sara's Arts and Crafts project…and without finding the perfect pink chair pre-made, that's exactly what I did!  "If you can't find it, MAKE IT!" always my motto.  So, I set to work on making the perfect chair for my photo-shoot.

Now, as arts and craft'sy as I am, (see this Pottery Barn, Lantern chandelier I designed and created for my house:  http://luckyoldsunranch.com/2013/03/06/lantern-and-rope-chandelier-pottery-barn/) I've never actually reupholstered a chair before.  But, thought it totally possible with the help of YouTube and my furniture re-designer friend, Mariah Hardy.  Finding this adorable chair on Craigs List, Mariah and I set out to purchase it from a sweet 15 year old, who was transforming her room from the "victorian stage" she had previously been in, to a more modern take with a chalkboard bedroom door and Ikea type furniture.

With Mariah's encouragement and advice, I began taking apart this chair, to paint the wood and make a pattern out of the fabric pieces (following a few great videos on YouTube).  After about 5 hours of work…just getting to the bones of the chair, my Golden Retrievers were tired watching this process and I was super stressed out!  "How on earth was this going to come together!" and staying on the timeline I had before my weekend of shoots…there just wasn't enough hours in the day to finish this piece.  My super awesome, father-in-law, Dave also helped me fix up a couple pieces of broken wood around the frame 🙂

That's when I met, Mr. Doza.  With the chair taken apart, but painted, I brought my vision to reupholsterer, Bob Doza (954-560-3705 : https://www.facebook.com/pages/DOZA-Designs/192129627661274
) with only a couple day crunch time to make my mess into a masterpiece for my shoot!  Succumbing to the realization, even between all the YouTube help in the world, I would not be able to make this chair into something that would sustain the test of time and be beautiful.
When I brought the chair to Mr. Doza, he asked me "where did this chair come from?  It's a 1940's chair, see the horse hair, used as the stuffing?  And the intricate detail of the carving?" and he added with a bit of disappointment in his voice "you painted the wood trim?!"  Proud of my decision to have this chair professionally created into the pink'awesome that I wanted, I left my chair in Mr. Doza's hands.

The last piece of the Sara Kauss re-branding photo-shoot project, was where we would shoot my photos.  If you've worked with me ever, you know that I pretty much, always shoot at sunrise!  Sunrise light is my favorite.  It doesn't matter what coast I'm on, the light in the morning is beautiful.  Also, the best thing about sunrise, is you shoot into the light, so you're not stuck running out of natural light.  There's something magical about waking up before the world wakes…my assistants would say there's something horrible about waking up before Starbucks drive-thru opens, I'm sure…but to me it's magic (TIP: I've learned to order my Venti-half-caf-mocha-no-whip, iced, with no ice, the night before the shoot, so it's happily awaiting me in the fridge the morning of the shoot).  And, what better place to capture sunrise, that represents me, then on the beach?

Outfit, my favorite overalls, check.  Hair and makeup, by my fabulous friend, Jessica Lindsay, check.  Location, check.  Pink chair, CHECK! CHECK!  (see the amazing work, Mr. Doza did?!)  Off to shoot…

My favorite part of this shoot was having my favorite people there!  Because we had just photographed, Sarah's shoot, (epic photos of Sarah Darling on the beach with a white horse, named Dezi, to come), she played assistant!  My amazing and wonderful, Alyssa photographed me and Jessica Lindsay got me all glammed up!  (Jess even had a salon makeover party where she highlighted my hair the night before!  Saying my roots, just wouldn't do!).

Off we set to the beach, pink chair in hand and an adventure in photography completed!

I could nitpick to pieces things that drive me crazy about how I look in photographs.  But, I am relatively pleased with these super fun shots and thankful to an amazing team who helped make my re-branding, Pink Sara Kauss, project a reality!  Alyssa did an amazing job reading my mind as she always does, Sarah Darling was a super assistant on set, and Jessica Lindsay gave me just enough pizazz on my face and beachy twirls in my hair, to feel purty!

What do you guys think?  Do you like the new Sara Kauss photo, pretty in a pink chair?!