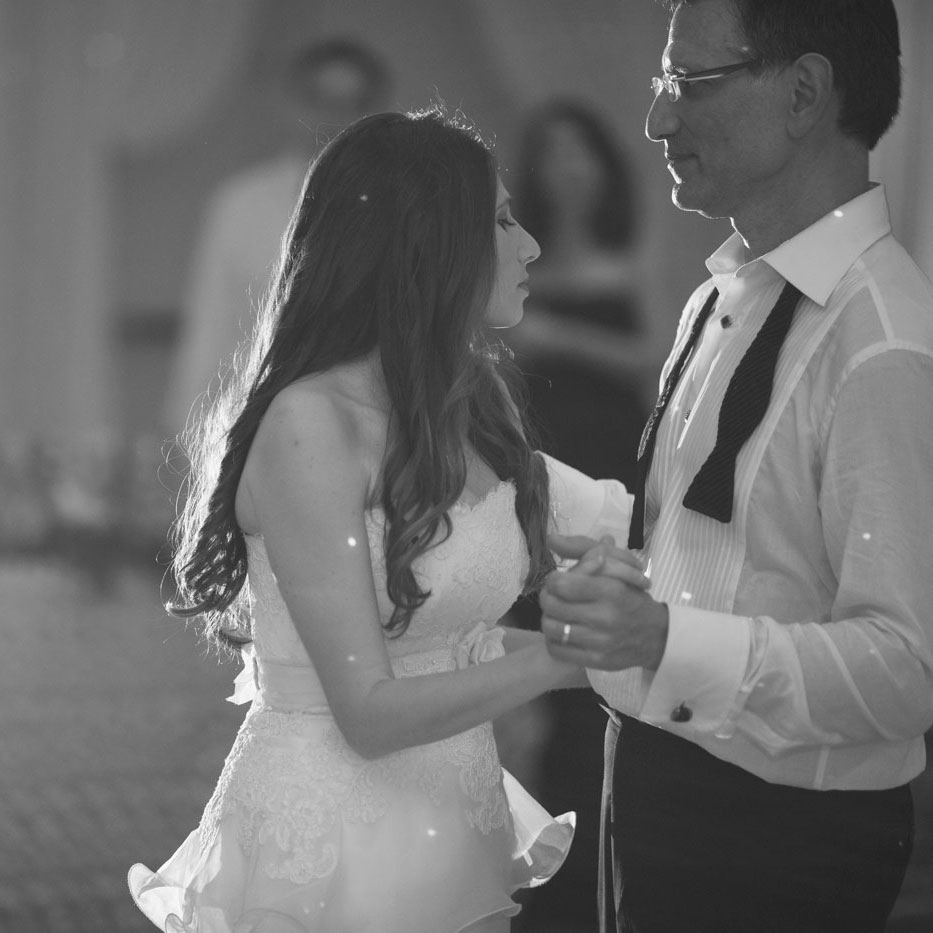 04 Feb

FIRST LOOK: Father Daugther Dance

I never knew a Tuesday could be so magical.  Who knew? It just goes to show that a wedding isn't about the day, the location or choice of your cake flavor…it's about two people committing their lives together for a lifetime. Really, nothing else matters.

Jacqueline and Oren's wedding day was close to perfect. Tina and I arrived at At PGA National, saying how great the South Florida weather was and fun idea to have a mid-week wedding. 70 guests gathered from all over the globe to celebrate with Jacqui and Oren, in crazy fun, Jewish tradition. Most of the guests on Oren's side traveled from Israel, where the bride and groom live and Oren's family is from.

From the humorous and yet serious Ketubah signing by the Rabbi, to the breathtaking sunset ceremony, Jacqui and Oren's day couldn't have been better, except for maybe one thing out of their control.  .  .

Starting at a very young age every girl loves to dream about wearing a big white princess gown and dancing with her dad on her wedding day. Jacqui and Oren's wedding reception had, up to the point of the father-daughter dance, gone amazingly.  The couple had one of the most fun Horahs I've seen and Tina captured the most amazing photos of the bride and groom being thrown up in the air via tablecloth, like a trampoline! Then, when the bride got up to dance with her dad, there were more than tears of joy on her face. It was emotional but in a way that I couldn't understand from behind the camera lens. After the dance, Jacqui's father went to the microphone and explained what was about to be a very sad turn of events for this happy couple's celebratory day.

Jacqueline's father is a local surgeon, and due to unforeseen events in one of his client's cases, he literally had to leave the wedding night of his beautiful daughter and attend to his patient in a critical state. You could've heard tears streaming down the guests' faces as he explained that he wouldn't have missed his daughter's wedding for anything, but must leave to go "save a life." It was one of the most admirable act of heroism I've ever witnessed. After an incredibly touching, short speech of love and admiration for his daughter and new son-in-law, Jacqui's father ran out of the room and left the reception to save a person's life. Leaving to save a person's life so that maybe that person could dance with their daughter on her wedding night some day, too.

I couldn't help but think about all the sacrifices that men and women all over the country make on a daily basis to keep us safe. Military missing their children's birth, Firefighters putting out burning homes on Thanksgiving day, surgeons saving lives on their daughter's wedding day. Being thankful for the blessings we have because of the people who make our safety and health possible.

Of course the room was a bit somber, but I was impressed with the attitude of everyone, picking up and making best of the situation at hand. It also reminded me that on your wedding day, not only do the details simply accompany the day and the people make the wedding perfect, but in any situation, you can make the best of it if you just remember to have fun through it all.