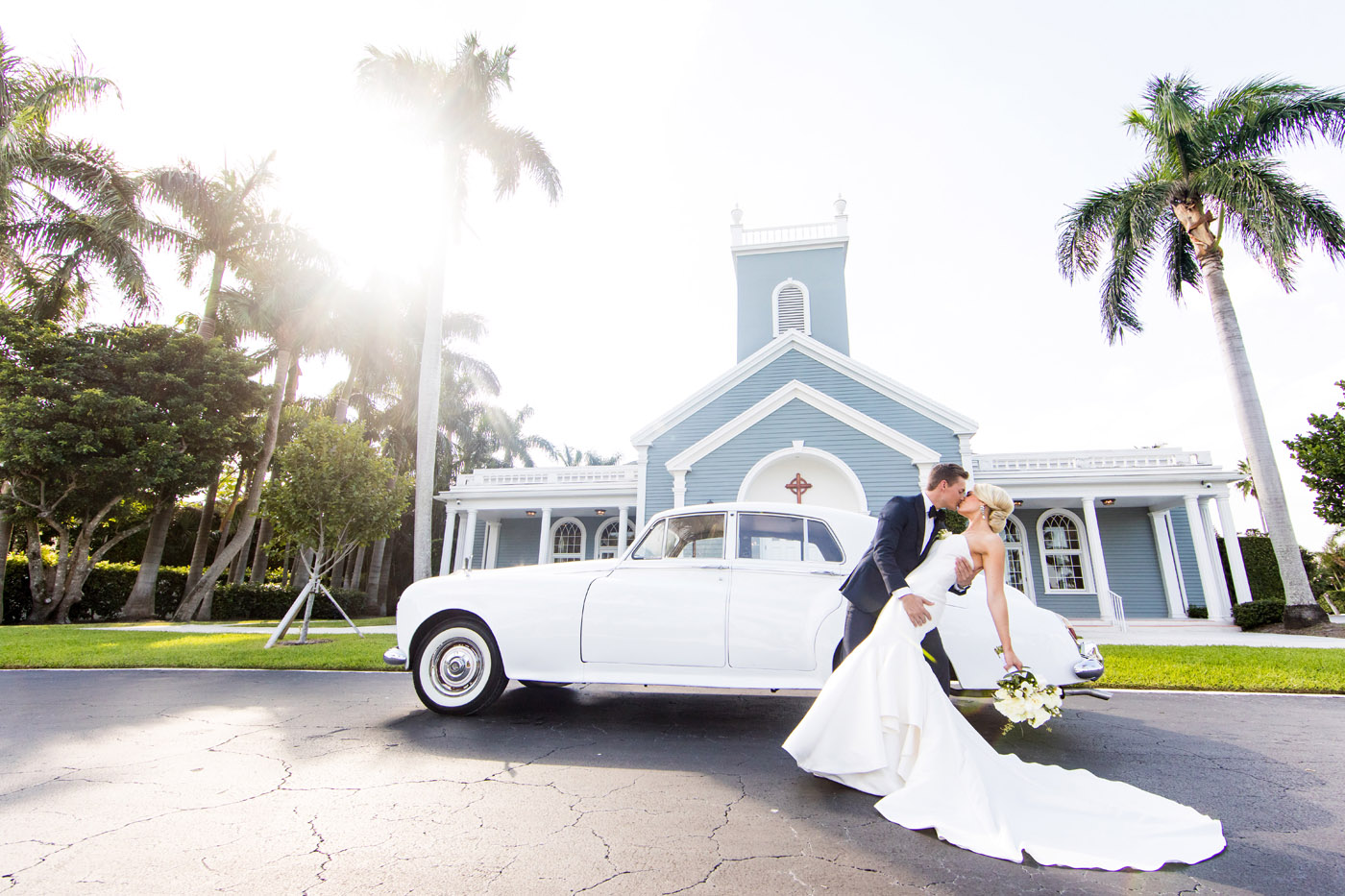 19 Jun

Elegant Palm Beach Wedding | Lauren and Justin
Lauren and Justin's Elegant Palm Beach Wedding at Royal Poinciana Chapel
Lauren and Justin's elegant Palm Beach wedding was filled with light, love, laughter, and so much dancing! When we tell you this was an absolutely beautiful day, it is an understatement! From the modern, airy condo where Lauren got ready, to the iconic Royal Poinciana Chapel and tropical beach front club where the reception was held, the day just kept getting better.
Lauren and Justin exchanged personal vows during their emotional ceremony at the Palm Beach chapel, following in their parents' footsteps who have been married collectively for 67 years! Later in the evening, as you'll read below, Lauren planned an epic surprise for Justin by playing a personal video message from Brett Favre, and then surprised all of her guests by changing into the cutest little white party dress! To really make the night unique, Justin's dad joined the band on the drums, and two family friends performed songs! There were so many meaningful parts of the day, it's impossible to pick our favorite!
Lauren and Justin's sweet family and friends immediately welcomed us as part of the group. We are so thankful to have been part of this elegant Palm Beach wedding with the most genuine group of people. Lauren was kind enough to tell us about the day from her perspective, and we couldn't be more excited to share with you this incredible wedding!
From The Bride:
How did you two meet?
Justin and I met on a recreational KICKBALL league! While kickball is most commonly associated with elementary school gym class, in Dallas, TX, kickball is a once-weekly excuse for twenty & thirty-somethings to gather with friends, relive their athletic glory days, and socialize afterwards over cheap pitchers at a sponsoring bar. Justin was recruited by a few of my friends to join our team, and when we met the first night, I guess you could say it was "love at first kick". Two different friends texted me at the bar that night, one saying, "Come talk to this, boy he's cute." The other said, "If you don't marry this guy, I will". We were engaged 15 months (and two kickball seasons) later!
Tell us about the proposal!
Justin and I had planned a date night at Terelli's restaurant in Dallas (ironically where we had our first date). I booked the reservation on Open Table (have to get the points!) but little did I know he had worked with the restaurant on a surprise rooftop engagement. When we walked up to our rooftop table, I saw a bouquet of flowers and photos of us scattered about and immediately burst into (happy) tears! Justin was down on one knee and proposed! After a few minutes of soaking it in, toasting with champagne and checking out my new bling, I called my parents on speakerphone to share the news! As we were mid conversation, I hear "THERE'S THE BRIDE!!!" and turned around to see my ENTIRE family, AND Justin's family, standing there. I couldn't believe it. Justin flew our families in from NYC & WI to celebrate, and kept it all a surprise! It was more than I could've ever dreamed of.
What was your vision / theme for your wedding day? 
Our theme was classic, simple, modern elegance with an old Hollywood glamorous feel. We chose a neutral pallet so the beauty of Palm Beach could be the focal point. We wanted to mix traditional elements with fun, personal, unique touches that would represent us as a couple.
Why did you choose your venue?
My parents spend half the year in Palm Beach, FL and it has become such a special place for my family and for Justin and me. We wanted a vacation destination for our guests, with festivities starting Thursday night so everyone could make it a long weekend! I loved the idea of getting ready at home, and having the ceremony at our church, the Royal Poinciana Chapel. The pastor is fantastic, the baby blue and white exterior is so charming, and the chapel backs into the intracoastal with a famous K-Poch tree (great backdrop for photos)! We chose the historic Beach Club for our reception for a few reasons. It was a mile from the church, has a gorgeous patio right on the ocean, and a ballroom with huge windows that make you feel like you're in the water. Joy Smith, the club's wedding coordinator, made our decision easy – she was such a delight to work with! The weather was perfect (despite a rainy forecast) so we were able to have cocktails outside (with an ice sculpture raw bar) and dinner/dancing inside. We kept the party going at Cucina afterwards!
What were your most meaningful detail(s)? 
I sewed a piece of lace from my mom's wedding dress into mine, embroidered with my parents wedding date and ours. I wore my sisters veil, and borrowed a diamond bracelet from a best family friend who was terminally ill and unfortunately could not travel to attend the wedding. Her daughter Lindsey, who was a Reader at our ceremony, presented the bracelet to me with a handwritten note and a FaceTime to her mom Lisa back at home. It was quite emotional but I felt so honored and thankful to have a part of her with me throughout day.
What traditions did you include? 
Our pastor, Dr. Robert Norris, made the ceremony extremely personalized to us and to our families. He asked that our parents join us at the alter to give us away, and honored their 67 collective years of marriage. We also loved the rehearsal dinner and wedding speeches. They were so well written/spoken, funny and heartfelt; we've rewatched them countless times and can't stop smiling! We had a band and danced between courses which made it a party from the start. My dad got our guests to do "the wave", Justin's dad played the drums and our two family friends sang on stage! We had an opportunity to thank our guests after our cake cutting, and then I changed into a fun reception dress!
What was your favorite moment of your wedding day? Does your spouse have a different favorite moment?
I have so many! We both agree that the first dances were our favorite moment. We picked the song, "Mean to Me" by Brett Eldridge (it was part of Justin's proposal) and took dance lessons in Dallas! My dad and I danced to "Dance with my Daughter", which switched over to a choreographed "Everybody Dance Now!" at the end to get our guests back on their feet!
I also had two fun surprises for Justin – I engraved a lyric from our first dance song & our wedding date to the inside of his ring, and also surprised him (and our guests) with a recorded cameo video message from Brett Favre (his favorite Packers player). I played the video for everyone before a Packers Groom's cake was wheeled out. Justin's face was priceless and everyone started chanting, "GO PACK GO". Brett Favre actually Tweeted out the video and Justin's reaction after the wedding!
Did you write your own vows? Tell us a little about them!
Yes! We wrote in monogrammed vow books we received as a gift, so reading (vs. memorizing) is something I'd definitely recommend! While we didn't share them with each other until the big day, practicing beforehand helped ease the nerves & emotion. Ours were a mix of heartfelt traditional commitments and a few jokes to lighten the mood. We were laughing afterwards because our vows sounded pretty similar!
What was your biggest challenge during planning, and what did you enjoy most?
Planning remotely but my mom & vendors were absolutely incredible! It was helpful that my mom lived in FL and could physically oversee everything. Our favorite part of the wedding planning was the food and wine tasting!
What advice would you give to brides planning their wedding?
Enjoy the process! The number of decisions and options can be stressful and overwhelming, especially when you want want to do it all, but know it's all going to come together. Have fun with it – I actually miss planning now! Also, make sure to be present during the wedding day. It sounds obvious, but it goes by so fast. Try to take moments to pause, soak it all in, and absorb everything going on. It is so wonderful seeing everything come to life, and all of your favorite people together in one room celebrating!
Why did you choose Sara Kauss Photography, and what was your experience like working with us?
I cannot say enough about Sara and her entire team. Sara's 'about me' video had me hooked (I mean… she has her Golden Retrievers in there :)), and from the moment I met Sara, we just clicked, and I immediately felt like I had a new friend. Sara has the warmest heart, infectious laugh and a way of putting you at ease. Justin and I had so much fun doing our engagement shoot on Worth Ave and could not wait to see her again on the big day! Sara exceeded ALL of our expectations. Our guests could not stop saying how much fun her team was and how well they fit in – they were more like friends & guests than a 'vendor'! When I got Sara's photos back I was speechless. Her creative eye, and ability to leverage light & pull in the natural surroundings is unlike anything I've seen. I am so happy & cannot wait to keep in touch with my new friend!
Vendor Partners:
Ceremony Venue: Royal Poinciana Chapel
Reception Venue: The Beach Club
Wedding Planner: Lauren Daversa
Florals: Creative Florals
Lighting: Music Machine
Hair and Makeup: Team Beauti
Music/DJ: Music Machine
Cake: Johnson's Custom Cakes
Officiant: Dr. Norris
Bride's Attire: Bridal Boutique and Marchesa
Groom's Attire: The Black Tux
Invitations/Paper Goods: Plum Paper
Videographer: Andreo Studios