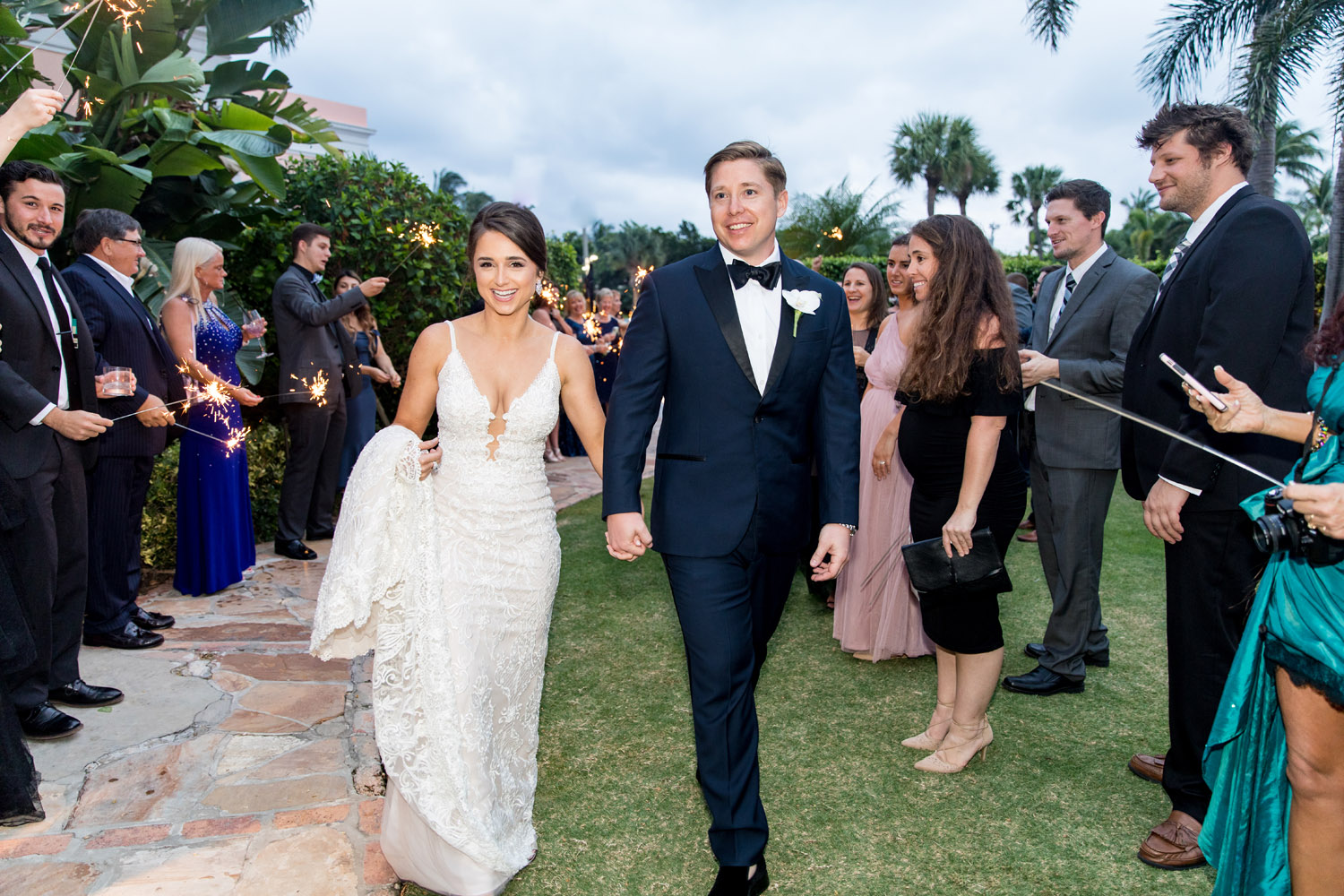 17 Mar

Amanda and John | The Colony Palm Beach Wedding
Amanda and John's Colony Palm Beach Wedding
Tropical elegance, emerald green sparkles, and the most chic hotel on Palm Beach… what more could we have asked for from Amanda and John's Colony Palm Beach wedding day?! How about a head-over-heels-in-love couple, adorable family, rocking band, and dancing crowd! There were so many special moments and happy tears throughout. Amanda and John took a few moments to share with us their favorite memories from their beautiful wedding day, and we couldn't be more thankful to have been part of it!
How did you two meet?
I remember being in college and asking my roommates if they thought we had passed the guy that we would marry. It turns out I had, back when I was in elementary school.  John and I grew up in the same hometown, Hobe Sound. John is a year younger, so although we went to the same school from elementary through college, we didn't actually meet until after college. Mutual friends made the introduction, and we hung out during my last weekend living in Florida and hit it off! After 2.5 years of long distance, John moved to Dallas and the rest is history!
Tell us about the proposal!
It was Memorial Day weekend and my parents were in town. My brother, who also lives in Dallas, made dinner reservations for all of us. After dinner, John said a co-worker of his was at a bar above the restaurant we ate dinner at and invited us up for a drink. It was late anyways, so we said bye to my family and headed up to the bar. Well, there was no bar, there was a hotel suite decorated with white rose pedals and champagne. We walked in and John got down on one knee and asked me to marry him! Both teary-eyed I said yes!!!  There was a knock at the door and it was my sister! She surprised me and flew out for the engagement, and my parents, brother, and sister in law were right behind her. We headed out for a celebratory drink and little did I know, John had another surprise planned.  He invited all of our close friends out for an engagement party! It was an incredible night full of surprises and lots of love. Btw, it was John who made the dinner reservation 😉
What was your vision / theme for your wedding day?
There is so much beauty in and around Palm Beach, and I wanted to play off of the elevated and chic vibe of the island with emerald green, gold, and white accents.
Why did you choose your venue?
The Colony is an iconic and timeless hotel on Palm Beach.  It is a boutique hotel that offered everything I was looking for in a venue from an outdoor cocktail area, to a reception ballroom with floor to ceiling windows, and of course has amazing food. It is a stunningly beautiful place and I am so glad we chose it as our wedding venue!
What were your most meaningful detail(s)?
Both of my grandmothers passed away a few years ago and I wanted them to be with me on my wedding day. I took one of their brooches and put it on my bouquet. Before my father and I walked into the church and down the aisle, a strong breeze passed through my veil and I couldn't help but feel their presence. It was an emotional and special moment.
What traditions did you include (ie: religious, bouquet toss, unique music)?
Our priest married my parents 36 years ago and renewed my grandparents vows after 50 years of marriage. I love that we share that special connection with my parents and grandparents.
What was your favorite moment of your wedding day?
Amanda said," I remember thinking how incredibly handsome John looked as I walked down the aisle. Being able to hold his hands and say our vows in front of our family and friends is a moment I'll always remember!"
John said, "I just had so much fun at the cocktail hour and reception. Amanda surprised me with a great bourbon bar that was the hit of the reception and the band was amazing. I will never forget our first dance together to "That's How Strong My Love Is" by Otis Redding. "
Did you write your own vows? Tell us a little about them!
We wrote our own vows in letters to each other that we put with our wedding gifts and exchanged before our ceremony.  Two important vows we made are to respect one another and work to be the best version of ourselves so we can then give our best to our relationship.
What was your biggest challenge during planning, and what did you enjoy most?
Planning a wedding in Florida while living in Dallas, Texas was the biggest challenge of the whole process. Followed closely by finding THE dress! After trying on 70 plus dresses, I found it!!
I was mindful of how special the wedding planning process was. I can say I truly enjoyed 99% of it. (The 1% is all the costs that came with it 😆)
What advice would you give to brides planning their wedding?
I have soo many pieces of advice! The most valuable ones would be to get a wedding planning guide and stay ahead of milestones; plan one night a week to talk with anyone who is helping plan the wedding and go over updates; and most importantly let yourself enjoy it and have fun!
Why did you choose Sara Kauss Photography, and what was your experience like working with us?
Sara Kauss Photography photographed my sister's wedding 10 years ago. They have a great reputation in the community and are extremely organized, which is helpful during the planning process!  I couldn't believe how quickly I received my photos back and loved how many wonderful moments they captured.
Vendor Partners:
Venue: The Colony Palm Beach
Ceremony: Holy Trinity Episcopal Church
Florals: MB Floral Designs
Makeup: Lea Montes
Hair: Idalis
Coordinator: Karma Goddess
Bridal Gown: Galia Lahav
Groom's Attire: The Black Tux
Bride's Shoes: Jimmy Choo  Sophia Webster
Cake: Johnson Custom Cakes
Band: The Sultans
Invitations & Paper: Quill and Press Inc.
Videographer: Anchor Weddings